School of Diplomacy Partners with UNITAR for Joint Online Executive Master's Degree
Wednesday, June 8th, 2022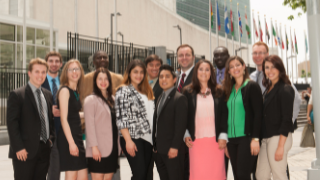 School of Diplomacy students at UN Headquarters in New York.
Seton Hall University is proud to announce the launch of a joint Online Master's Program in International Affairs and Diplomatic Practice with the United Nations Institute for Training and Research (UNITAR). The fields of international affairs and diplomacy are becoming more relevant as the world grows and interconnects through migration, commerce and business, social media, and mutual concerns about global environmental issues. This new graduate degree program allows mid-career professionals to explore contemporary diplomacy against the changing nature of world politics and enables them to investigate the complexities of relationships between different countries.
This accelerated online M.S. degree, which allows for flexible pacing, will provide participants with a sophisticated understanding of international affairs and diplomacy, both as a subjects of academic study and as intellectual preparation for a wide range of career choices. With both synchronous and asynchronous lessons, students will be immersed in interdisciplinary content through engaging online material, lectures, case studies, interactive sessions, groupwork, and stakeholder discussions.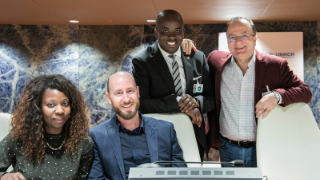 Students complete UNITAR modules.
Throughout the program, students will develop the ability to analyze complex issues in the field of international affairs and diplomacy by completing a choice of four core courses offered with Seton Hall including Public International Law, Art and Science of International Negotiation, Comparative Foreign Policy, Politics of Cultural and Ethnic Pluralism, International Political Economy and Advanced Economic Aspects of International Relations. In addition, participants can complete one of six functional and regional specializations.
UNITAR programming in Geneva, Switzerland.
The degree features a variety of elective modules, jointly created by UNITAR and SHU to enable students to develop specialization in a wide range of diverse areas and gain practical skills from world-class practitioners. These modules cover topics ranging from Public and Cultural Diplomacy, Project Management, and Leadership in International Organizations to Diplomatic Communication, Mediation and Negotiation Training, and Public-Private Partnerships and Business Diplomacy. This exclusive online master's degree will thus offer a unique opportunity to join combine theory and practice, in a truly unique new graduate degree catered to flexible learners.
Students will be taught, supported and mentored by leading School of Diplomacy and UNITAR faculty and international experts who work closely with the United Nations, international companies, and NGOs globally.
To learn more and apply, visit the program page.
Categories: Nation and World