The Power of Understanding and Nonviolence
Wednesday, February 19th, 2020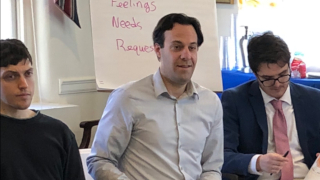 Dr. Eli McCarthy, director of the DC Peace Team, leads a training workshop on Nonviolent Communication, a practice used worldwide to resolve conflict.
Around the world people struggle to get along. But try as they might, conflict continues. Wars are fought, political divides are drawn, family members retreat into separate corners. It's easy to feel hopeless when opinions differ, misunderstandings multiply, feelings get bruised. But perhaps we aren't seeing what's right in front of us. We share common human needs – belonging, safety, consistency, purpose, order, etc. – that can bring people together. We experience similar feelings, including fear, anger, embarrassment, vulnerability, and jealousy, when our needs are not being met. Understanding our common humanity it turns out, is a powerful tool for nonviolent peacemaking.
Last week, on Valentine's Day, a group of staff and students, including members of the Diplomacy Cohort of the Buccino Leadership Institute, gathered to open their hearts and minds to the possibility that we can find a way to peace, in our world, in our homes and in our lives. The School of Diplomacy hosted a training workshop on Nonviolent Communication led by Eli McCarthy, a professor of Justice and Peace Studies at Georgetown University and director of the DC Peace Team.
First championed in the 1960s by Marshall Rosenberg, Ph.D., Nonviolent Communication, NVC, is a widely adopted technique around the world in different cultures that emphasizes listening, compassion and connecting to our needs and emotions and to the needs and fears of others as a path to transforming conflict. The NVC training program at Seton Hall was an outgrowth of Magisterium Pacis, a two-day conference held on campus last fall that examined the Church's role in expanding peace worldwide with the Catholic Nonviolence Initiative. McCarthy, who was also a featured speaker at the conference, conducts NVC training throughout the country as part of his work with the DC Peace Team.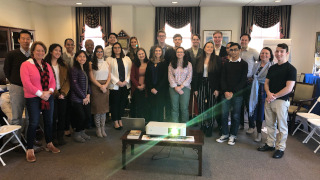 Staff and students, including members of the Diplomacy Cohort of the Buccino Leadership Institute, took part in Nonviolent Communication training, a follow up to last fall's Peacekeeping Conference.
McCarthy explained that the work being done to advance peace globally also includes providing unarmed protection to people living in conflict zones. Trained professionals in South Sudan, for example, accompany women as they collect water and firewood protecting them from sexual assault. He spoke about bystander intervention, preventing violence and building empathy at protest demonstrations, and unarmed protection being used in cities and towns across the U.S. that are facing challenges over borders, pipelines and clean water (Shanti Sena Network). "We go to interrupt dehumanization and try to build empathy where we can," McCarthy added.
Participants began Seton Hall's 4-hour NVC program by talking about challenges they see in society. Students mentioned our "cancel culture," where people can be blocked on social media, and the ongoing assault on the truth, as reminders of the critical need for better communication. McCarthy explained that when it comes to peaceful problem solving, the interest in and success of relationship-building initiatives, such as restorative justice, nonviolent resistance movements, trauma-healing, and unarmed civilian protection, demonstrates that "there is a tremendous amount of creativity in society."
McCarthy encouraged the audience to tap their emotional intelligence to help identify their own needs and feelings. Self-empathy, he said, is an important practice to help us connect with our feelings and needs; and thus, by doing so we become more capable of seeing what another person may be going through. Participants paired up to share stories of conflict in their own lives – with a family member, a co-worker or with a roommate – to understand what feelings and emotions are going on below the surface when conflict emerges. One participant, who had recently returned from doing peace work in Thailand, mentioned her own struggle to feel empathy with others. The group watched a Ted Talk featuring activist Maria Engles who suggested that before heading into a stressful situation, we take a moment to center ourselves, to say a quick prayer, take a deep breath, or simply remember someone who made us feel our best.
In one role-playing exercise, participants teamed up and were asked to represent opposing sides on different issues, such as climate change, abortion, militarism and immigration. The exercise revealed that people on different sides of an issue can have similar needs. For example, security and safety, came up for both sides on the immigration issue. On climate change, one student noted that people with opposing views on the environment share economic concerns that could potentially provide common ground for developing strategies and policy solutions. McCarthy said that by identifying the needs each side has we can begin to find better strategies and even policies to actually begin to meet those needs and bring us together. The group also did a role-play using NVC in a possible negotiation between Iran and the U.S.
McCarthy moved the workshop to a close by asking what people felt they wanted to do next. Amanda Guitierrez, a Diplomacy student said that the training reminded her "that we are all human and that we all have our own interests and needs." To find a solution to confrontations, she added "we need to be more empathetic and more understanding that other people have their own needs."
The School of Diplomacy's Associate Dean, Elizabeth Halpin, who organized the training workshop, said that "one of my takeaways is a reminder of how much a need we all have for affirmation and recognition of our humanity." Too often she added, "that need isn't met."
Categories: Nation and World