Model UN Team Wins at Fall Conferences
Wednesday, December 14th, 2022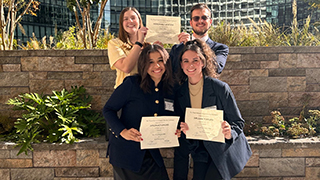 Students with awards at Georgetown Conference.
Ranked in the top 50 of the 2021-2022 North American College Model U.N. Final Rankings, Seton Hall University's Model United Nation Club (SHUNA) continues to excel into the 2022-2023 school year. In the past three conferences, members of the organization have won nine awards and commendations. For a school that prides itself on its core tenants of diplomacy and negotiation, the showing of success from SHUNA is a great joy.
Model UN conferences bring together real-world politics and historical and fictional disputes. The General Assembly committees replicate the reality of the United Nations, as students assume the role of delegates from a specific country and negotiate and draft resolutions on a pertinent topic. Recent conferences saw students representing South Africa in a committee about Sustainable Tech and Finance, France in a committee about the Crisis in Yemen, the Philippines and Liberia in an African-Asian Summit, and Ireland in a UN Committee on Environment and Development.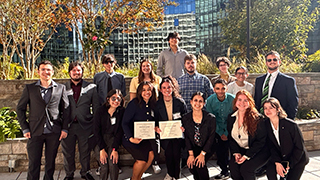 SHUNA with awards at Colombia University Conference.
The historical and fantasy committees are known as Crisis Committees, and this is where the SHUNA team excels. These committees differ slightly from the General Assembly ones, as students represent characters like Hermione Granger in Harry Potter or historical figures like Abraham Lincoln in the Civil War. Instead of trying to pass resolutions, the students have personal goals they're trying to attain that influence in-room debate.
This team represents students from the College of Arts and Sciences, the Stillman School of Business, and the School of Diplomacy across all grades. When asked about his time as a member of SHUNA, freshman Joseph Brennan said, "SHUNA has become a great group of friends for me that have helped me through my first semester at college. Not only that, but Model UN as a whole has helped me improve my public speaking skills and my writing skills."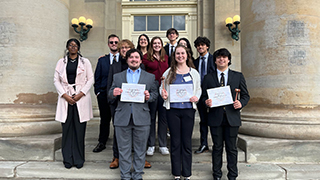 SHUNA Team with awards at Cornell University.
As for the specific conferences this semester, SHUNA took eight students to the Columbia University conference, with Elisa Cavalli (Senior) and Sophia Alicea (Freshman) winning awards. At the Georgetown University conference, 16 students represented the school, and Mary Tiffin (Junior), Sophia Alicea (Freshman), Sophie Ulm (Sophomore), and Timothy Dziekan (Senior) won awards. Finally, at the Cornell University conference, 11 students competed and Elisa Cavalli (Senior), Joseph Brennan (Freshman), and Connor Campbell (Junior) won awards.
The School of Diplomacy is incredibly proud of the hard work and commitment of the SHUNA team. Keep up the good work; we look forward to their success in the Spring semester!
Categories: Nation and World