Global Leaders in Training: Seton Hall's Diplomacy Students Attend UNA-USA Summit
Wednesday, May 10th, 2023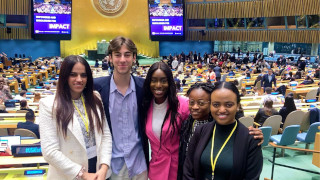 L to R: Hanan Abu Salih, Patrick Condon, Idara Ben-Edet, Theresah Oduro, Feven Kebede
Diplomacy students from Seton Hall attended the UNA-USA Global Engagement Summit, where they joined hundreds of young leaders, diplomats, and experts from around the world to explore pressing global issues and collaborate on solutions while honing their skills and gaining real-world experience in international affairs.
UNA-USA's Global Engagement Summit (GES) was held on February 17, 2023, at the United Nations Headquarters in New York City where world leaders and grassroots changemakers gathered to discuss critical topics. Over 1,000 people attended the event, which is the largest annual meeting of UN supporters in the country, including students, advocates, and young professionals from throughout the country.
The theme for 2023, "Empowered and Emboldened for Impact,'' emphasized the importance of providing participants with the resources they need to launch initiatives that will help maximize collective influence, as well as equipping them to advocate for bold actions that best benefit people and the environment.
The conference presents an excellent platform for young professionals and students to participate in thought-provoking talks, network with peers and experts, and get vital insights into the complex challenges affecting the world.
"Amongst the topics discussed (were) delivering humanitarian aid, protecting human rights, actualizing the SDG's (Sustainable Development Goals), maintaining international peace and security, and upholding international law. Thank you, UNA-USA, for this informative and insightful experience," said Hanan Abu Salih, a graduate student at the School of Diplomacy.
Participants learned about UN activities and participated in advocacy work to support the organization's mission of promoting human rights and sustainable development.
"With six to eight years left until we feel the worst effects of climate change and hope to actualize the SDG's, we all must do our part to leave our footprints on the sands of time," wrote Idara Ben-Edet, graduate student at the School of Diplomacy specializing in African Economic Development.

With a one-hour opening plenary, eight seminars lasting half an hour each, and a one-hour closing celebration, the event concentrated on strategies to support sustainable development and climate action. Through sessions centered on the UN's five primary goals—maintaining global peace and security, defending human rights, providing humanitarian aid, supporting sustainable development and climate action, and upholding international law—participants were empowered with knowledge and understanding of the organization. Furthermore, GES participants were emboldened through additional sessions that introduced them to changemakers who have made an impact in UN issue areas or focal points, such as strengthening the US-UN relationship, actualizing the SDGs, preserving cultural heritage, and supporting the evolution of the United Nations.
"The UNA-USA 2023 Global Engagement Summit at the United Nations was a huge success! It was wonderful being back in the General Assembly Hall and seeing hundreds of UNA-USA members from across the country. We opened with U.S. Representative Linda Thomas-Greenfield, followed by several hot-topic panels, and ended with Faith Hill, her daughter Maggie McGraw and Special Adviser to the Secretary-General on Climate Action Selwin Hart. UNA-USA members left energized and ready to continue their support for the UN," said Rachel Bowen Pittman, Executive Director at UNA-USA.

In-person participation was available to UNA-USA members, while virtual participation was open to the public. For Seton Hall University's diplomacy students, attending the UNA-USA Global Engagement Summit was an invaluable moment. They not only had the opportunity to connect with top leaders in international affairs but also to collaborate with their peers from around the world on some of the most critical challenges of our time. Seton Hall University's continued commitment to providing its students with unique experiences like this highlights the importance of cultivating the next generation of global leaders capable of addressing the complex challenges confronting our interconnected globe.
Categories: Nation and World