Diplomacy Thought Leader Featured in CNN, BBC and More
Thursday, January 19th, 2023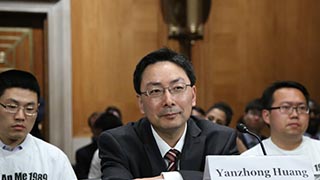 Professor Yanzhong Huang, Ph.D.
Professor Yanzhong Huang, Ph.D., director of the Center for Global Health Studies in the School of Diplomacy and International Relations, senior fellow in Global Health at the Council on Foreign Relations, and author of Toxic Politics: China's Environmental Health Crisis and Its Challenge to the Chinese State, is being featured almost daily in the world press on China lifting restrictions of its Covid policies as Lunar New Year approaches.
Since December 1, 2022, he has appeared in BBC World News, CNN News, NPR, PBS NewsHour, Time, and Christian Science Monitor, Straits Times, and South China Morning Post. In addition to his regular appearances in English media, he was also featured on Chinese media outlets including Xinhua, China Newsweek, and diyi caijing. His one-on-one Q&A interview with Dr. Kong Deji on how the government should prepare for the Covid surge received more than 2.1 million views in early December; and his one-on-one interview with Yixuejie (Medical Community), in which he refuted the theory of "quickly reaching the peak of viral wave," became the hottest search item on Baidu.com (the largest search engine in China) on December 25, 2022.
As a much sought out expert on global health governance, health diplomacy, health security, and public health in China and East Asia, his work has been published in numerous news stories, academic journals, and book chapters, and his current expertise on COVID-19 and China's response has been featured in the media on a weekly basis throughout the COVID-19 pandemic, resulting in millions of dollars of media exposure for the University. Over the past year, he has published 18 opinion articles, which appeared in Foreign Affairs, New York Times, Wall Street Journal, Washington Post, and The Economist. Huang correctly predicted the Covid-19 Tsunami in China one year ago, when he published a long-form article "China's Immunity Gap: The Zero-COVID Strategy Leaves the Country Vulnerable to an Omicron Tsunami" (Foreign Affairs, January 26, 2022). The article was selected by the editors as "The Best of 2022."
Professor Huang recently shared his expertise with CNN in his opinion piece, In China's countryside, a Covid-19 tsunami is brewing, on challenges China faces as Lunar New Year approaches.
Providing his own insights, Professor Huang explained:
Many have been separated from their children and parents in the countryside for three years, due to the government's strict Covid-19 controls.
Now that the country has abandoned its zero-Covid policy and lifted domestic travel restrictions, the government estimates the number of passenger trips during the Lunar New Year rush (from January 7 to February 15) will be double that of the same period last year – reaching close to 2.1 billion.
And the world's largest annual human migration is expected to fuel the spread of Covid-19.
Professor Huang is the director of the Center for Global Health Studies at Seton Hall University and the editor-in-chief of the Journal of Global Health Governance.
Watch a video where Professor Yanzhong Huang discusses global health challenges worldwide, careers in the field, and opportunities for global health study at the School of Diplomacy and International Relations.
Links to select media coverage include:
Categories: Education, Health and Medicine, Nation and World