Diplomacy Signs Agreement With Russian University
Thursday, December 2nd, 2021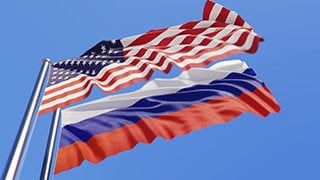 Last month, the School of Diplomacy signed a 5-year Memorandum of Understanding with the Moscow State Institute of International Relations (MGIMO), fellow member of the prestigious Association of Professional Schools of International Affairs, to foster cross-cultural collaboration through the exchange of faculty and students. While COVID put a damper on the one of students' most exciting opportunities, study abroad, the School of Diplomacy is determined to revive these important exchanges. The saying goes that people and organizations ought to "practice what they preach" and the School of Diplomacy strives to do that in the field of international relations, with its wide and varied opportunities for real world experiences. To understand international affairs, international travel is essential. This is a unique opportunity for Seton Hall and the School of Diplomacy, giving students a chance to study at what is recognized by many as the top university in Russia. This agreement is the start of a new post-COVID era of international exchange for the School of Diplomacy and marks an expansion of its presence overseas.
The program will run during the fall and spring and is open to rising juniors as well as graduate students to apply. Students from each institution will be able to enroll in courses at both participating universities, including ones taught in Russian language provided the student has B2 proficiency. MGIMO will offer Russian language courses free of charge to SHU students should they want or need them.
Acting Dean, Courtney Smith commented on the importance of the partnership, sharing, "I am pleased to have the opportunity to collaborate with our partner MGIMO in Russia to provide opportunities for student and faculty exchange. International partnerships bring opportunities for cross-cultural learning that are integral not only to the student experience, but to academic progress and the relationship between our nations."
Faculty may also participate in the exchange through the instruction of courses at the other participating university and mutual research opportunities.
This is not the first MOU signed between the two schools. The School of Diplomacy has a long connection with MGIMO but is looking forward to a more active partnership and exchange in the future.
Categories: Education