Understanding America's Polarization and What We Can Do About It, Chandra DeNap Whetstine
Tuesday, November 23rd, 2021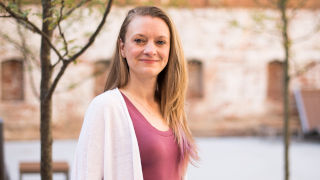 Diplomacy alumna Chandra DeNap Whetstine, M.A. '10, recently spoke to Seton Hall students and community members on the science behind how we have become such a polarized society and explored some ways in which we can fix that. The event was hosted by the School's Center for Peace and Conflict Studies where she serves as a non-residential fellow. She is also the Vice-President of Programs and Operations at The One America Movement. Whetstine sat down with Diplomacy Graduate Student Matt Enterline to talk about the movement, her motivation and background.
The mission of the One America Movement is to build a united American society by eliminating toxic polarization. Whetstine leads program and curriculum design for religious leaders and congregations as well as heading the organization's program scaling and operational development. As Vice-President of Programs and Operations, she helped launch the One America Movement as an independent 501c3 organization, expanded programming to over 1,200 faith communities and strengthens her programs through interventions with experts in social science, psychology, and neuroscience.
Whetstine explained that polarization itself is normal, having disagreements about ideas is the foundation of democracy. But when those disagreements shift from ideas to disagreements about our roles and identities then it becomes toxic. Americans have a deeply distorted view of each other as the gap between the reality of how a group thinks and how they are perceived to think is growing. This is only further amplified by social media, 24-hour news cycles, and extremist rhetoric. Luckily people's actual beliefs are much more reasonable which does make it possible to find common ground.
Whetstine went on to say that when working in mediation and conflict management, the key is to be patient and to be constructive. Absolutely stand up for what is right and set boundaries for yourself but also don't be afraid to critique your own side. These meta perceptions we have about people across the divide prevent us from forming connections. Allow others to share their own stories and listen rather than try to convince others they're wrong.
The catalyst that started this journey for Whetstine was catching a showing of Hotel Rwanda with her husband. They both realized that they wanted to do more for their fellow man, and thus decided to join the Peace Corps. They would both go on to teach English in Guizhou, China. It was here that her interest in international development was sparked.
Following her time in the Peace Corps, Whetstine went on to study Diplomacy and International Relations at Seton Hall University. During her time as a graduate student, Whetstine served on the Graduate Diplomacy Council, the Journal of Diplomacy, completed an internship in Bhutan and worked as a research assistant under Dr. Wang.
Whetstine's advice to current students is to treat graduate school as one big opportunity to network, attend as many school events as you can and ask lots of questions, to set yourself up for future opportunities.
After graduation, Whetstine entered the international development field working on issues like gender equality, youth engagement, and disability inclusion. After working in the international aid field for some time, she recalls seeing time and time again, whole towns rallying together around various obscure issues. In one instance, villagers went door to door making sure children that needed wheelchairs got them. Wanting to see this level of community support here in America, Whetstine left the international aid field to join The One America Movement. In this role, she brings people together across religious, racial, and political divides and to act on issues that matter in their communities.
Categories: Alumni, Nation and World