Nobel Peace Laureate Leymah Gbowee to Address World Leaders Forum
Thursday, October 26, 2023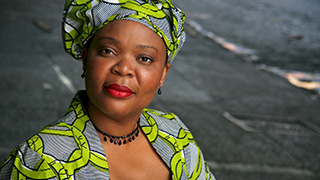 Nobel Peace Laureate Leymah Gbowee, Liberian peace activist and global women's advocate, returns to Seton Hall to address the World Leaders Forum at 2 p.m. on November 14. Hosted by the School of Diplomacy and International Relations, the event will take place on the South Orange campus beginning at 2 p.m. in Bethany Hall. Click here to register.
2011 Nobel Peace Laureate, Madam Gbowee is best known for leading a nonviolent movement that brought together Christian and Muslim women to play a pivotal role in ending Liberia's devastating, fourteen-year civil war in 2003. This historic achievement paved the way for the election of Africa's first female head of state, Liberian President Ellen Johnson Sirleaf. It also marked the vanguard of a new wave of women emerging worldwide as essential and uniquely effective participants in brokering lasting peace and security.
Madam Gbowee has been a friend to the School of Diplomacy for many years, joining its Board of Advisors in 2022. She is serving as a visiting scholar and continues to work with the school's Board of Advisors and her own foundation to secure scholarships for African students to pursue a degree from the school. The Gbowee Peace Foundation Africa-USA, founded by Madam Gbowee, has also hosted School of Diplomacy interns nearly every semester. The foundation provides educational and leadership development opportunities for women, girls and youth.
Madam Gbowee was the featured speaker at the World Leaders Forum on November 20, 2014, which took place at Jubilee Hall. In her moving address, she reminded students, faculty and guests, that many of the challenges facing Africa also exist closer to home, including right here in New Jersey. She urged her audience to address issues locally before tackling them on a global level. In the face of discouragement, she offered hope, reminding students that even a small action can chip away at the largest issue and make a difference.
In addition to her many accolades, she is the proud mother of a School of Diplomacy graduate, Leemu Madison, M.A. '19, and naturally engages with the ideals embodied by the School's Women of Diplomacy Leadership Program that actively promotes women's leadership and empowerment.
"We are honored to be able to engage as a University community so personally with Madam Gbowee. Her messages of peace and grassroots empowerment and her own life experience have positively impacted so many around the world as we face such critical issues and challenges," said Courtney Smith, Dean of the School of Diplomacy and Vice Dean of the School of Law.
Madam Gbowee's life story was told in the 2008 documentary film Pray the Devil Back to Hell and her 2011 memoir, Mighty Be Our Powers. She was seventeen when the Liberian civil war started. While the conflict raged, she became a young mother and eventually trained as a social worker and trauma counselor, working with ex-child soldiers.
A founding member and Liberia Coordinator of the Women in Peacebuilding Network of the West Africa Network for Peacebuilding, she organized her fellow Christian women to mobilize for peace and collaborate with a Muslim partner to build an unprecedented coalition with Muslim women, giving rise to the interfaith movement known as the Women of Liberia Mass Action for Peace. As its spokesperson, she led thousands of women in weeks-long public protests that forced Liberia's President Charles Taylor to meet with them and agree to formal peace talks in Accra, Ghana. She led a delegation of women to Accra, where they applied strategic pressure to ensure progress, including forming a human barricade to prevent Taylor's representatives and the rebel warlords from leaving the meeting until they reached a peace agreement. Within weeks, Taylor resigned the presidency and went into exile, and a peace treaty mandating a transitional government was signed.
Before founding the Gbowee Peace Foundation in 2012, she co-founded the Women Peace and Security Network Africa (WIPSEN-A) in Accra and went on to serve as its Executive Director for six years. WIPSEN-A is a women-led and women-focused pan-African nonprofit organization dedicated to promoting women's strategic participation and leadership in peace and security governance on the continent.
Engaging with Global Leaders
The World Leaders Forum provides an opportunity for speakers to encourage dialogue in search of new avenues for building peace. As part of this signature program, the School of Diplomacy has welcomed United Nations Secretaries-General António Guterres, Ban Ki-Moon and Kofi Annan, UNGA President Ambassador Csaba Kőrösi; U.S. Ambassadors to the UN, Linda Thomas-Greenfield, Samantha Power and Susan Rice, Archbishop Christophe Pierre, Apostolic Nuncio to the United States, Nobel Peace Prize winners Nadia Murad and Leymah Gbowee, former Prime Minister of Great Britain and Northern Ireland Tony Blair, former Soviet President Mikhail Gorbachev, Iranian President Mohammad Khatami, and former President of Poland Lech Walesa, among other distinguished visitors.
About the School of Diplomacy
An affiliate member of the Association of Professional Schools of International Affairs, the Seton Hall University School of Diplomacy and International Relations is a professional school offering graduate and undergraduate programs, online and in person. The school embraces Seton Hall's long tradition of a values-based education emphasizing servant leadership, seeking to make a substantive impact in solving global challenges. With a diverse student body and faculty, intimate class sizes, and an agile curriculum, diplomacy students are colleagues, working on collaborative research, policy and field work and innovations alongside faculty. To learn more, please visit www.shu.edu/diplomacy.
Categories: Nation and World