Becoming Better Global Leaders Amidst a Pandemic
Wednesday, January 13th, 2021
In the fall semester of 2020, throughout the month of November, students in the School's leadership cohort participated in a virtual cross-cultural education program offered by the non-profit organization Soliya. Although the Covid-19 pandemic had shut physical borders and the possibility to study abroad, Diplomacy student leaders had the unique opportunity to connect with young adults from around the globe through Soliya's Connect Express Program, and discuss sociopolitical issues that are especially pressing during this time of social awakening. By engaging in cooperative dialogue, students built and honed skills essential to any global leader of the 21st century: critical thinking, cross-cultural communication, and collaborative problem-solving.
The Connect Express Program consisted of a 4-week long program in which students were assigned to different online groups of approximately ten other participants from regions such as the Middle East, North Africa, North America, and Europe. In weekly two-hour long sessions, students broadened their understanding of the world by interacting with young adults of their own age, learning about the importance of dialogue and the urgent need for cooperation amidst conflict.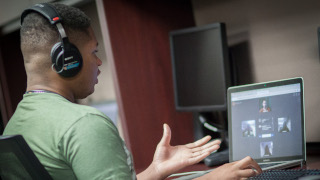 From the first session, student participants set their own guides and expectations for future meetings as well as made note of their preferred discussion topics. This gave students ownership over their own learning process, as well as raw insight into what their global peers were interested in discussing. Guided by a Soliya-trained facilitator, students enjoyed an open and safe virtual space to share their experiences, whether personal or professional, and to ask and respond to any questions about each others' communities and realities. By exchanging views on issues such as inequality, gender, religion, social media, climate change, and immigration, students also came to understand the strong commonality between their ideals and beliefs as members of the same "gen-z" generation.
Additionally, the program designed self-reflective activities that asked students to dive deeper into their identities and the factors that shape their own characters. By encouraging participants to share their inner realizations with their peers, students gained an up-close perspective on the personal lives and views of young adults from places like Afghanistan, Indonesia, Palestine, and Ukraine. Countries of which students had limited knowledge about now had a human face. By creating such real and personal connections, students went beyond the book-learning experience while developing inter-cultural communication skills.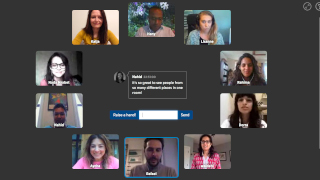 Throughout the program, many students came to realize how they had unconsciously absorbed stereotypes which had long guided their perceptions of people living outside of the United States. The program broke down students' assumptions by allowing them to hear first-hand from people currently living in those countries. Many students now also thank the program for expanding their awareness of the different etiquette norms and communication cues that are particular to other regions of the world—an especially important aptitude for young adults pursuing careers in international relations and diplomacy.
Nezar Nokrachi, a sophomore student leader of the School of Diplomacy, says, "The program helped me refocus my way of participating in conversations. I was able to step back and assess myself as a listener and a speaker. I engaged in dialogue with a diverse group of people who helped me remember just how large and interesting the world is."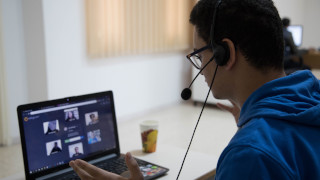 Students enhanced their collaborative problem-solving abilities when working to solve conflicts in real-life scenarios posed by their facilitators. This exercise required all members of each student group to contribute ideas and then agree on a final answer. Facilitating this exchange of ideas exposed students to other "angles" from which to see a situation, teaching them to think outside of their own boxes in a way that ultimately enlarged their own conflict management toolkits. Simultaneously, the respectful and cooperative interaction required to reach consensus taught students of the importance of peaceful dialogue. When discrepancy arose, students learned to effectively communicate their perspectives without placing judgement on their counterparts. In a world that so often decides between "right" and "wrong" on a purely subjective basis, the program challenged students to put aside individual ego and self-assertion, and instead to find solutions by listening to others' points of view.
During times when physical interaction was limited, our student leaders were still able to embark on a journey of inter-culturalism. By engaging in dialogue with a diverse group of young adults, they broadened their perspectives about the world, impacting their personal and professional lives, as well as their self-identities as college students and future global leaders. Not limited to the four weeks of online sessions, the program assured that students continued cultivating their newly-made connections—many have made friends for life. Through the continued practice of engaging with people from other parts of the world, our student leaders will be able to better serve humanity and work toward collaboration and cross-cultural understanding.
Categories: Nation and World