Army Intelligence Expert Speaks to National Security Fellowship
Wednesday, January 11th, 2023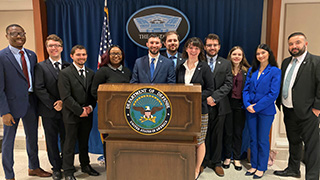 The 2022-2023 National Security Fellowship (NSF) welcomed its first guest speaker of the year, Retired Lieutenant Colonel of the U.S. Army Andrew Swedlow. Lt. Col. Swedlow is a veteran and intelligence expert with extensive experience in the Middle East. In April of 2021, he led an open discussion on terrorism and the Great Game for the School of Diplomacy. Lt. Col. Swedlow returned to the School virtually on November 7th, 2022, to guide this year's cohort on security issues and unconventional warfare.
The research team explored contemporary issues in international security with Lt. Col. Swedlow, who drew upon his two decades of experience to answer questions. Insight was offered on aspects of the defense industry to assist the team in calibrating their research. Lt. Col. Swedlow encouraged the fellows to research the National Defense Strategy to better understand the Department of Defense (DoD) needs. The National Defense Strategy is a report that outlines the DoD's objectives under the Biden Administration. Understanding the overarching goals of the Department will allow the NSF to create pertinent recommendations for SOCCENT.
Along with a discussion about the DoD, Lt. Col. Swedlow spoke about his experience with SOCCENT and the importance of behind-the-scenes support. Since SOCCENT is a joint Special Operations Forces headquarters, the organization works with many partners including government agencies and allies abroad. Special Operations require logistical coordination because of the complexities of SOCCENT's operations in addition to the involvement of strategic partners. Lt. Col. Swedlow helped students recognize the importance of logistics and found ways to connect it to the National Defense Strategy.
Informational interviews are one part of the rigorous NSF program. The NSF provides a unique experiential learning opportunity for outstanding graduate students from the School of Diplomacy and International Relations. Under the guidance of Sharkey Scholar and alumnus Mohamad Mirghahari (B.A. '02/ M.A. '04), the NSF team performs research for various agencies of the U.S. government. Research topics and projects vary by year but have included missions from the Department of State, the Department of Defense, and the White House. The 2022-2023 team is working on a project for Special Operations Command Central (SOCCENT), a first for the program. SOCCENT is a joint Special Operations Forces warfighting headquarters, and the NSF team is providing analysis and recommendations on great power competition for SOCCENT's area of responsibility in Central Asia.
In April 2023, the NSF team will present its findings to SOCCENT officials. This year's NSF research team comprises ten graduate students from the School of Diplomacy and International Relations. Team leaders Christina Grossen and Allison Risewick guide the research team members: Zane Cawthon, Matthew Enterline, Brent Findon, Jaaisel Ford, Anneliese Ivy Preske, Peter Roberto, Delfronce Sanders, and Joshua Smith.
Categories: Education, Nation and World