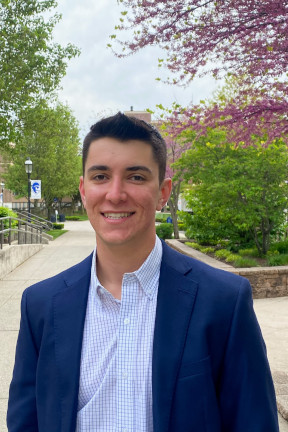 Jonathan Lester.
Written by: David Marina
This spring, Jonathan Lester was named a Servant Leader Scholar by Seton Hall University. Servant Leader Scholars epitomize the University's mission and are examples of leadership for the good of others. Scholars are chosen for their excellent academic record and dedication to service. Hailing from Baldwinsville, New York, Jonathan is majoring in Diplomacy and International Relations with minors in Russian and Economics.
For Jonathan, the college application and selection process was about finding the best personal fit. "During my vast college search, I looked for schools that not only had high caliber academics and a wide array of curriculum options, but one that offered a community that aimed to produce leaders to enter into the world upon graduation. Seton Hall's School of Diplomacy stuck out to me on my list…a list that included about sixteen schools."
Jonathan Lester had always demonstrated an interest in giving back to the world around him. "Having been involved in many service groups, and also part of a family that was centered around serving others and the community, I knew that, someday, I too wanted to give back and serve my community. I just was not entirely certain as to the specifics of what I wanted to focus my career on."
"Coming to Seton Hall allowed me to continue to serve and grow as a servant leader while also continuing my studies." When not in class or interning, Jonathan devotes time towards assisting the Division of Volunteer Efforts (DOVE) and the Habitat for Humanity Club, both of which are on campus. "Earlier this year, I traveled to Taos, New Mexico, and served with my Seton Hall peers there. We helped build and construct three houses for the local Taos community and immersed ourselves in the different culture."
"I find that living the servant leader way, as Seton Hall promotes, helps me in all categories of life and is something I am very proud of." Heeding the call to a career in public service, recently Jonathan began an internship with the New Jersey Transit Police Department's Intelligence Section as an intern. During his internship, Jonathan was responsible for creating daily intelligence reports and subject detail reports to support the safety of the officers and the approximate 900,000 daily riders along the New Jersey Transit System. This experience allowed him to blend pedagogy and real-world experience, furthering his growth as a professional. "Not only did I learn about NJTPD, but I learned about the way agencies worked together, and I learned how badly I wish to work in this field for my own career. Having the opportunity to learn from a hands-on experience during my time at Seton Hall and the School of Diplomacy will certainly help me down the road, and I will be forever grateful for that."
Jonathan's story of academic and professional growth is not an outlier at Seton Hall's School of Diplomacy and International Relations. An affiliate member of the Association of Professional Schools of International Affairs (APSIA), the School of Diplomacy is dedicated to experiential learning, putting theory into practice to produce diverse professional leaders ready to shape the private and public sectors. Jonathan is following Mother Seton's example, modeling the University's mission to develop servant leaders for a global society.
Seton Hall Career Highlights
Servant Leader Scholar
Volunteer, Division of Volunteer Efforts (DOVE)
Member, Habitat for Humanity Club
Intern, New Jersey Transit Police Department's Intelligence Section