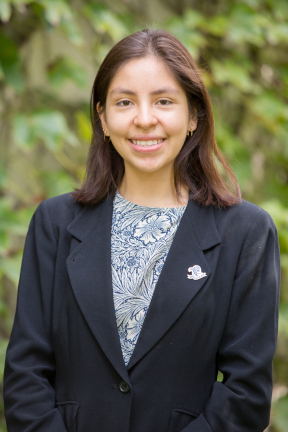 Daniela Maquera Sardón, B.S. '21, recently spoke with the Diplomatic Envoy about her experiences as a student at Seton Hall. Maquera Sardón emigrated from Peru to New Jersey with her family when she was 15. She majored in Diplomacy and Economics, with a minor in Asian Studies, and represented her class as valedictorian at last year's commencement ceremony at Giants Stadium.
After graduating, Maquera Sardón was an exchange student studying Development Economics at Stockholm University. She is currently interning with Mercy Corps while studying at Fudan University in Shanghai, China, where she earned a scholarship to pursue a master's degree in World and Chinese Economy. Her goal is to contribute to improving education and eradicating poverty through her research work and studies.
As a Seton Hall student, Maquera Sardón was involved in the Latino Student Organization, Adelante, and became the club's chief financial officer. Being part of the organization throughout her college years was integral to her growth, she says. Maquera Sardón is grateful for the support she received from fellow students and faculty. Ana Campoverde, who was the director of Adelante at the time, was one of the first people at Seton Hall to help Maquera Sardon develop more confidence in her speaking skills and helped her land an internship.
The undergraduate research Diplomacy Lab played a big role in Maquera Sardón's college experience and provided an outlet for her interest in research and writing. The Diplolab along with her involvement in The Buccino Leadership Institute, the University Honors Program, the Global Current, and the Diplomatic Envoy, helped Maquera Sardon explore options for life after college and become more intentional with her plans.
Through Maquera Sardón's experiences in classes and extracurriculars, she found a great support system that supplemented her college activities. She is grateful for Professor Joseph Huddleston, Ph.D. of the DiploLab, who encouraged her to co-write papers and build her confidence as a writer. Maquera Sardón's shyness about speaking English, which is not her first language, carried over from high school. She was able to overcome that, and connected frequently with teachers who supported her, which made Maquera Sardón feel less alone in navigating her future. Maquera Sardón also appreciated the support she received from Professor Benjamin Goldfrank, Ph.D., who along with her collaborator on the paper, Professor Giacomo Santangelo encouraged Maquera Sardón to send her senior thesis to a journal. Professor DongDong Chen, Ph.D. introduced her to the idea of studying at Fudan University.
Maquera Sardón says she is also grateful for the assistance she received from Maisie Mountcastle, and Bryan Price, Ph.D. of the University Honors Program as well as Associate Dean Elizabeth Halpin, of the School of Diplomacy. She said: "All the work I did was not just what I did." It was with the community of support that helped her achieve success at Seton Hall.
Maquera Sardón encourages students to "be more curious." She remembers her growing confidence and constant exploration of organizations and outreach to faculty. Maquera Sardon highlights the importance of "starting with time" and "getting your feet wet with information." She emphasized asking for help and being intentional in spending time and energy on what's important.
Maquera Sardón sees college as an opportunity to absorb as much as possible and to be open-minded to new experiences. That attitude allowed her to develop an understanding of the benefit of learning about the world and the impact an education can have on her goals of ea.
She concluded by encouraging the students of Seton Hall to "challenge themselves by following their passion and by being compassionate as well." Her purposeful and meticulous studies and work to eradicate poverty is something that comes from her heart and hits close to home. Maquera Sardón is a shining reminder to students who are under pressure in competitive environments to not only persevere but also bring kindness to what they do.
Seton Hall Career Highlights
Valedictorian, Seton Hall University Class of 2021
Chief Financial Officer, Adelante, Latino Student Organization
Student Researcher, Diplolab
Member, The Buccino Leadership Institute, University Honors Program,
Contributor, The Global Current
Digital Editor, Diplomatic Envoy