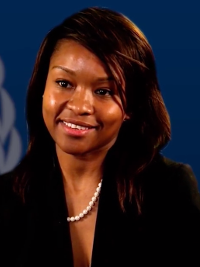 Originally from Zambia, Choolwe first learned about Seton Hall while conducting research on public diplomacy in Germany. She recalls "As I was looking for data, Seton Hall kept popping up and I discovered the Diplomacy and International Relations program." In search of an outlet to combine her interests in both international and public relations, she felt drawn to the School for its proximity to and relationship with the United Nations community. A passion for this unique multinational organization ultimately motivated her to incorporate the School's immersive United Nations Intensive Summer Study Program into her M.A., Diplomacy and International Relations curriculum. As a member of this cohort, she engaged directly with UN leaders and developed a first-hand perspective on how the UN operates behind the scenes. The program not only provided Choolwe with an insider's view, it connected her to a diverse group of peer participants. "Since the program is open to students from within and also outside of Seton Hall, I was able to interact with students and professionals from Canada, the U.K., and more. And I made a lot of life-long connections."
While Choolwe looks forward to growing as a professional alongside these future colleagues, she's quick to point out the opportunities afforded to her as a result of building connections with the School's faculty and discussing her interests. After being selected as a Research Assistant, Choolwe worked in partnership with several different Diplomacy faculty members. She worked with Dr. Ann Marie Murphy on research concerning Southeast Asia, and played a pivotal role in the research of Dr. Omer Gokcekus, managing much of the data behind his examination of corruption worldwide. "These different research assistantships have really built and expanded my knowledge base. By conducting research on a variety of topics with my professors, I've gained interest in the topics myself."
These relationships also helped Choolwe to land a seat at a UN summit focused on building public-private partnerships for social impact. At the summit, she heard from world leaders such as Tony Blair, former presidents of different countries, and senior officials from organizations like the IMF on building a sustainable future. "With one of my interests being sustainable development, I was excited to hear directly from leaders who have worked to address this issue. The experience was a complement to the visiting leader series hosted by the School on campus, where you get a chance to hear about the work that world leaders across a variety of sectors do, engage with them, receive career guidance, and see how the lessons you learn about in class apply in the real world."
Choolwe's goal was to complete her M.A. in a year and a half, and she credits the School's flexible scheduling and customizable curriculum for allowing her to do just that, while she developed specialties in international organizations, and international economics and development. As she prepares for graduation, she's grateful for the support of the School's internship and professional services offices. "One of the exceptional features of the School of Diplomacy," she says, is the depth of its career development resources. I utilized the School's services and out of that, I was able to get a job right here at Seton Hall as an adjunct professor in the School of Communications where I will be teaching international public relations to undergraduate students. I'm really excited about this opportunity because my goal is to teach and become a full-time professor."
Seton Hall Career Highlights
President, Sigma Iota Rho, International Studies Honor Society
Secretary, International Studies Association
Participant, UN Intensive Summer Study Program
Graduate Research Assistant, Seton Hall School of Diplomacy