Monday, November 29, 2021
On Wednesday, December 1, at 4 p.m. the Scholars' Forum in the Catholic Intellectual Tradition welcomes Prof. Allan Wright, Adjunct Professor in ICSST and the Department of Catholic Studies at Seton Hall University. A specialist in Catholic theology, Professor Wright teaches the courses, Spirituality of Sports: A Catholic Perspective and The Parables of Jesus: Models of Evangelization. He is also the Academic Dean of Evangelization for the Diocese of Paterson, NJ located in Madison, NJ at St. Paul Inside the Walls-The Catholic Center for Evangelization at Bayley-Ellerd.
 Prof. Allan Wright, author
Professor Wright has authored seven books, three of which have been translated into Brazilian Portuguese, Italian and Polish. In addition to having his work published by Franciscan Media, Catholic Book Publishing Company and Ave Maria Press, Professor Wright has reviewed close to 50 books for the Catholic News Service.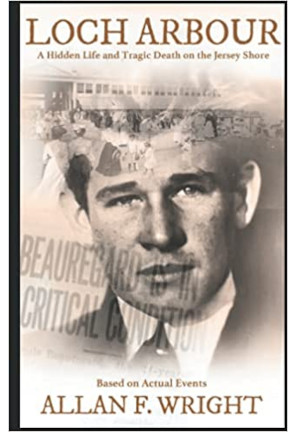 Allan Wright's book
The book he will be presenting is Loch-Arbour: A Hidden Life and a Tragic Death at the Jersey Shore about the death of a 15-year-old boy and its impact on his family and friends – a story of remorse and healing. Prof. Wright's family has connections to this story, so researching it and writing about it were personal for him. He describes how he got interested in the topic:
"My great uncle, Louis P. Beauregard, was killed as the result of an ice pick wound to his head which was thrown during an altercation and snowball fight. The tragedy occurred on December 18, 1915, on a small stretch of land just north of his hometown of Asbury Park, NJ, called Loch Arbour. Louis Beauregard, only 15 years of age, died four months later at the Ann May Hospital in Spring Lake, NJ, on April 15, 1916.
My family never mentioned him. He was known to me only by three remaining photographs that I found after my father passed away. While I knew Louis' sisters and brothers, my grandmother and great uncles, there was never any word about Louis. The photographs led me to do some research and I started with the archivist of Neptune township. I wondered if there were any school records or death notices. She sent me a copy of a news article whose headline read, 'Icepick Wound Causes West Grove Boy's Death.' I was flabbergasted." We can be sure it will be a rich and interesting discussion.
Click HERE to view the book on Amazon!
The Scholars' Forum in the Catholic Intellectual Tradition series was created to showcase publications in CIT by faculty and is sponsored by the University Core, the Program of Catholic Studies, the Center for Catholic Studies, the Department of Religion, and Immaculate Conception Seminary School of Theology.
Click HERE for the link to the talk!
Categories: Education , Faith and Service