Inside the Core: Scholars' Forum in CIT Restarts with Dr. Ines Murzaku
Wednesday, February 3rd, 2021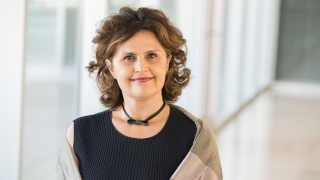 Dr. Ines Murzaku
In Inside the Core this week, we are pleased to announce the start of a new semester of our Scholars' Forum in the Catholic Intellectual Tradition. Our first speaker is Dr. Ines Murzaku, Chair of Catholic Studies, Director of the Catholic Studies Program and Professor of Religion, and one of the people involved in planning and co-sponsoring this wonderful series of faculty presentations. The series grew out of an awareness that there were many faculty linked to the Core and Catholic Studies who were publishing new books in the field of the Catholic intellectual tradition. Our fall series ranged from international relations in connection with church groups to an analysis of St. Thomas' Aquinas' theological ideas. Dr. Murzaku will be presenting on her latest book, Mother Teresa: Saint for the Peripheries (Paulist Press, 2021).
In her new book, Dr. Murzaku explores the life of Saint Teresa of Calcutta through the lens of Pope Francis' focus on those who live on "the peripheries," the marginalized, the excluded. St. Teresa devoted her life to working with those cast aside by the respectable, wealthier, more stable elements of society. Pope Francis encourages the entire church to do the same. Dr. Murzaku explores this quality in the life of Mother Teresa, all the more significant for her because she shares an Albanian background with the saint. In an article about Saint Teresa of Calcutta, Pope Francis (who canonized her in 2016) is quoted as saying that "she was a 'dispenser of divine mercy' and held world powers to account 'for the crimes of poverty they created.'" Furthermore, the Holy Father said, "For Mother Teresa, mercy was the salt which gave flavour to her work, it was the light which shone in the darkness of the many who no longer had tears to shed for their poverty and suffering" (Isla Binnie, Reuters, Sept. 3, 2016). Dr. Murzaku's book is a timely recounting of this saint's life, who dealt with suffering in its most profound forms on the streets of Calcutta and, through her sisters and communities, all over the world.
Dr. Murzaku's scholarship in the field of Catholic Studies and the Catholic Intellectual Tradition is deep and comprehensive. She earned a doctorate of research from the Pontifical Oriental Institute in Rome, part of the Pontifical Gregorian University Consortium, and has held visiting positions at the Universities of Bologna and Calabria in Italy and the University of Münster in Germany. She has won grants including the Alexander von Humboldt Research Fellowship for Experienced Researchers; Social Sciences and Humanities Research Council of Canada Grant (SSHRC); and Fulbright Senior Research Scholar. Her research has been published in multiple articles and eight books: Mother Teresa: Saint of the Peripheries (Paulist Press, 2021), which she will be discussing; Life of St Neilos of Rossano (1004) (Harvard University Press 2018); Italo-Greek Monasticism from St Neilos to Bessarion (Ashagte-Routledge 2018); Monasticism in Eastern Europe and the Former Soviet Republics (Routledge 2016); Monastic Tradition in Eastern Christianity and the Outside World a Call for Dialogue (Peeters University of Leuven 2013); Returning Home to Rome? The Monks of Grottaferrata in Albania (Analekta Kryptopherres 2009); Quo Vadis Eastern Europe? Religion, State and Society after Communism (Longo, University of Bologna 2009); and Catholicism, Culture and Conversion: The History of the Jesuits in Albania (1841-1946) (Orientalia Christiana Analecta, Pontifical Oriental Institute 2006).
Dr. Murzaku was the vice-president of the Association for the Study of Nationalities (ASN) and a United Nations accredited representative for the organization Christians Associated for Relationships with Eastern Europe. She is a regular commentator to media outlets on religious matters. She has worked for or collaborated with the Associated Press, CNN, Voice of America, Relevant Radio, The Catholic Thing, Crux – Taking the Catholic Pulse, Salt and Light Catholic Media Foundation (Canada), Catholic World Report, National Catholic Register, The Record, The Stream, Radio Tirana (Albania), Vatican Radio (Vatican City), and The Eternal Word Television Network (EWTN-Rome). We are excited to have her presenting here to her own friends, colleagues, and students at Seton Hall.
Scholars' Forum in the Catholic Intellectual Tradition – Spring 2021
Feb. 10, Wed.., 4 p.m. Dr. Ines Murzaku, Mother Teresa: Saint of the Peripheries (Paulist Press, 2021). Learn more about her book, click here.(Note: the link will be the same for Dr. Murzaku's talk and all the other Scholars' Forum events.)
To join, click here.
The Scholars Forum in the Catholic Intellectual Tradition will continue with readings by faculty authors approximately every two weeks, through TEAMS. See the schedule for upcoming speakers and links to their books:
Feb. 24, Wed., 4 p.m.: Dr. Maria Morrow, A Busy Parent's Guide to a Meaningful Lent
Click here to learn more about her book.
March 10, Wed., 4 p.m. Dr. Gregory Floyd, The Catholic Reception of Continental Philosophy in North America
Click here to learn more about his book.
March 24: Romero-King event – no Scholars' Forum this week. Link for this event will be posted separately.
April 7, Wed., 4 p.m. Dr. Chad Thralls, Deep Calls to Deep: Mysticism, Scripture, and Contemplation
Click here to learn more about his book.
April 21, Wed. 4 p.m. Fr. Paul Haffner and Fr. Joseph Laracy, eds. Stanley Jaki Foundation International Congress 2015.
Click here to learn more about their book.
Categories: Arts and Culture, Education, Faith and Service