Prof. Todd Stockdale named Teacher of the Year within the University Core
Thursday, February 9th, 2023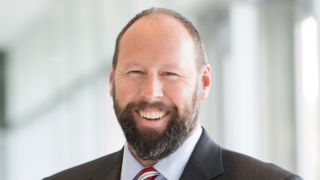 Professor Todd Stockdale, Ph.D.
Professor Todd Stockdale, Ph.D., was nominated for Teacher of the Year in the University Core division. Prof. Stockdale has been a Core Fellow since 2011 and is currently serving as Coordinator of Core II. He is one of the most beloved faculty members in the Core, teaching also in the Honors program and the occasional Core III section, and his reputation extends beyond his own classes. In fact, it was some of his colleagues, other Core Fellows, who approached me about naming Prof. Stockdale as Teacher of the Year in the Core. Assistant Director Maribel Landrau and I quickly agreed, as did Chair of the Signature Core Curriculum Committee, Professor Roseanne Mirabella. Finally, several students added their letters in support of Stockdale's nomination. This nomination is within the Core, as the University Teacher of the Year has not yet been announced.
Prof. Mirabella, Chair of the Signature Course Curriculum Committee (SCCC), describes how important Prof. Stockdale has been in his role as Coordinator of both Core I and, now, Core II:
"Given his deep understanding of the content of the first two signature courses and his ability to successfully deliver this content to his students, Prof. Stockdale has become one of the most highly regarded professors in the university core program. Based on his passion for the curriculum and his mastery of pedagogical approaches, I invited Prof. Stockdale to become the Journey of Transformation coordinator, a post he held for many years. Desiring to turn his attention back to his teaching, Prof. Stockdale left his position as Core I Coordinator, but we did not let him stay away for long. I was able to reel him back in as the core coordinator for the second course, Christianity and Culture and Dialogue. He is again bringing his mastery of the course material and his passion for teaching to the scores of faculty teaching Christianity and Culture in Dialogue much as he had done for the Journey course. In my opinion, there is no one more deserving of the Teacher of the Year award than Todd Stockdale and it is my honor to join the chorus of others nominating him for this award."
The other Core Fellows who nominated Prof. Stockdale expressed similar feelings. Professor Chad Thralls, Ph.D., who has worked with Stockdale for many years in the Core, says:
"What matters to him is the students and the teaching. He is not in this to promote himself or to receive accolades like this one. He loves teaching and pours all of his energy into helping students learn to love the material as much as he does…. Prof. Stockdale is a role model for all faculty teaching in the Core. He is the type of teacher we should hold up and celebrate."
Professor Greg Floyd, Ph.D., Core Fellow and Director of the Center for Catholic Studies, notes:
"Prof. Stockdale has been an invaluable source of insight and wisdom for teaching specific texts and for teaching Seton Hall Students. He is intelligent and creative in how he frames and presents the texts of Core I and II and is exemplary in his capacity to combine rigor and charity in his dealing with students. He is the first person I turn to when I need to discuss how to approach a text or a student issue in class. He is in early in the morning and here late at night ensuring his students have a rich and winsome introduction to the Catholic Intellectual Tradition."
Finally, Professor Roger Alfani, Ph.D., the newest Core Fellow, sums up Prof. Stockdale's impact in these words:
"There are people I call 'destiny helpers,' who we meet in our journey of life, including academic paths, and who inspire us in several ways. Prof. Stockdale is one of those destiny helpers I am grateful to count on and always delighted to collaborate with."
Perhaps most importantly Prof. Stockdale has been amply recognized by his students. His evaluations are consistently excellent. And the students nominating him said things like this:
"He is an example of a thoughtful professor, an inspiring mentor, and a good man who seeks to put the needs of others before his own. This man is truly humble, good-natured, wise, and a beautiful example of servant leadership."
Another student said:
"His contribution to creating a safe space that facilitates the flowing of ideas without restriction is invaluable. He is always prepared for class. He leads class discussions effortlessly and effectively. He cares and it shows in his work. He makes me want to learn."
Furthermore, the same student said:
"When I speak up, I feel heard. In his class, I have a voice. Everyone is given the chance to express their ideas and no one is shamed for it. There is a sense of comfort that overwhelms me when I enter his class. That comfort remains with me as the class proceeds, urging me to speak."
Another student said:
Our class never ended after that hour and fifteen minutes because I would go home with more questions than answers and ponder them with my mom for sometimes hours. I can easily and confidently say that Prof. Stockdale's class was the single most influential and important experience that I have had throughout my educational career."
Prof. Stockdale himself describes his experience teaching in the Core:
"I count it a great privilege to teach in the Core Curriculum at Seton Hall. It is such a delight to get to have conversations with students every day about things that matter—like goodness and beauty, truth and happiness, and what it means to be fully human."
What can be added to these heartfelt comments? Only this: we are grateful to have Prof. Stockdale teaching for us, and whatever happens university-wide with "Teacher of the Year," we are all pleased to celebrate Prof. Stockdale for this honor inside the Core.
Categories: Faith and Service