Core Fellow Greg Floyd Publishes Book
Friday, February 14th, 2020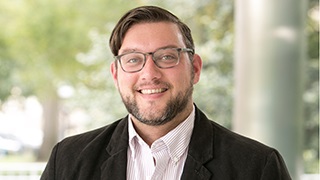 Gregory Floyd, Ph.D.
The Core is happy to announce the publication of a book by one of our Core Fellows, Gregory Floyd, Ph.D. Greg's book, Catholic Reception of Continental Philosophy in North America (University of Toronto Press), which he co-edited with Stephanie Rumpsa, will be available on March 19, 2020. However, the book can be seen online now, on the press's website. The book is a collection of scholarly essays on a topic important to the Catholic intellectual tradition, continental philosophy, which has been an influence in the North American church. This book explores why. Greg explains:
Book will be available in March 2020

This volume tells a curious and fascinating story about the effect of European philosophy on American Catholic higher education. When we began working on the volume we realized many people had part of the story and others knew it in outline, but no one had set it down in a complete and scholarly way. The original research, first-hand experience, and academic stature of many of our contributors enabled us to present that story in its past, present, and possible future dimensions. My co-editor and I are very grateful for their intellectual generosity, and we hope the volume will be useful to a variety of scholars and any reader interested in one strand of the contemporary dialogue between faith and philosophy.
Boston College's website proudly announced this publication by two of its alums (Floyd '16 and Rumpsa '19).
Dr. Greg Floyd has been teaching in the Core since 2016, and he is a beloved teacher and colleague. He is actively involved in the Core program in every capacity, suggesting speakers and helping in the planning of activities. He also serves as Director of the Lonergan Institute, Article Reviewer for the Journal of Continental Philosophy of Religion, and Associate Editor of The Lonergan Review. Congratulations, Greg!
Categories: Arts and Culture