Inside the Core: Core Celebrates Accomplishments
Thursday, October 21st, 2021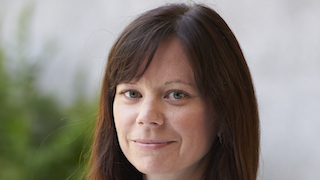 Dr. Ksenija Puskaric, Core Fellow and artist
Inside the Core this week, we are highlighting two key members of the Core family: Dr. Ksenija Puskaric, Core Fellow, and Dr. Elizabeth Redwine, Coordinator of Core I: Journey of Transformation. Both have had recent accomplishments that celebrate women's gifts and wisdom.
Ksenija Puskaric, Core Fellow since 2015, received her Ph.D. in Philosophy from Central European University: Budapest, Hungary in 2010. Her thesis topic was The Skeptical Challenge: A Cartesian Approach. She was a Visiting Researcher at the Institute of Philosophy of the Slovak Academy of Science in Bratislava, Slovakia in 2009 and at the Center for Philosophy of Religion at Notre Dame University, Notre Dame in 2007. Her areas of specialization are Epistemology, Philosophy of Religion, Philosophy of Mind, Early Modern Philosophy. However, Dr. Puskaric is also an artist.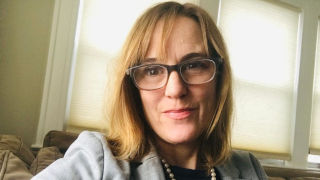 Dr. Elizabeth Redwine, Coordinator of Core I, English lecturer, and author
Recently, her artwork was featured in a musically accompanied montage of the works of women artists, co-sponsored by the Sussex County Arts and Heritage Council and the American Association of University Women. The combined exhibition is entitled "A Woman's Journey" (appropriate for our fall Journey of Transformation classes!). Here is the link to the exhibition. The accompanying music is also by women artists. To see more of Ksenija Puskaric's artwork, check out her website.
Also celebrating the accomplishments of women, Elizabeth Brewer Redwine's book, Gender, Performance, and Authorship at the Abbey Theatre (Oxford University Press, May 2021) argues for reconsideration of authorship at the famous Abbey Theatre in Dublin. Dr. Redwine points out, according to her book description, "how actresses who performed the key roles at the Abbey contributed original ideas, language, stage directions, and revisions to the theater's most renowned plays attributed to William Butler Yeats and J. M. Synge. Leaders at the Abbey and the press overlooked these contributions because the actresses were predominantly working-class Catholic women from Dublin tenement neighborhoods." On October 7, she participated in a virtual discussion hosted by Fordham University, entitled "New Work by Four Oxford Authors – a Collaboration between Maynooth English and the NYC Irish Studies Consortium."
Besides authoring this important book and being Coordinator of Core I, Elizabeth Redwine is the co-author, with Amrita Ghosh, of the forthcoming Tagore and Yeats: a Postcolonial Re-envisioning. She is a lecturer in the English Department at Seton Hall University. She edits, with Martha Carpentier, the annual online journal Critical Inquiries into Irish Studies.
As the "A Woman's Journey" virtual art exhibition and Gender, Performance, and Authorship at the Abbey Theater, both celebrate the accomplishments of women artists, we also are happy to celebrate the accomplishments of these two women, who also give so much to our students and to the Core.
Categories: Arts and Culture, Education