Semester in Rome at the Pontifical Irish College
Tuesday, April 11th, 2023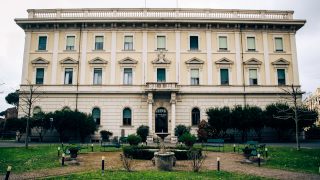 Beginning Fall 2023, Seton Hall undergraduate students will have a new chance to study abroad in Rome for a semester and earn credit toward graduation. Participating students will live at the Pontifical Irish College in Rome and take courses at the rigorous Pontifical Gregorian University, an opportunity stemming from the University's membership in the National Catholic Studies Consortium.
Joining students from other National Catholic Studies Consortium universities around the United States, Seton Hall students in the program will to learn firsthand about the life and culture of Rome, the Catholic Intellectual Tradition, and the experiences of their peers from across the nation and around the world.
"Seton Hall has become a significant force in international collaboration in higher education and collaboration across the curriculum," said Ines Murzaku, Ph.D., professor of religion and director of catholic studies. "Our membership in the Consortium and the opportunities it is giving to our students and faculty are unparalleled, in terms of human, spiritual, and intellectual formation."
"This unique semester long study abroad opportunity is a fabulous opportunity for Seton Hall students to learn from experts in the field alongside students from top Catholic universities from around the country and the globe," added Mary Kate Naatus, assistant provost and dean of Continuing and Professional Education who oversees the creation of strategic domestic and international partnerships.
Through this program, Seton Hall students will take courses taught in English at the Pontifical Gregorian University; these courses will be complemented by overnight and day trips to sites of significant to their studies. Upon successful completion of the program, each student will be eligible to have 12 credits from the Pontifical Gregorian University transferred to Seton Hall toward graduation.
Interim Director of International Programs Douglas Cantelmo added, "The Office of International Programs is thrilled that students at Seton Hall have a wonderful opportunity to study abroad in the Eternal City through such an esteemed partnership. Seton Hall is dedicated to building out more semester study abroad programs for students which connect with our University's global mission."
Students in the program will enjoy a weekend retreat and daily opportunities for spiritual growth and worship, Rome metro/bus passes, Italian-style continental breakfast each day and two community dinners per week, guided tours of the Vatican and other sites of significance, and cuisine from regions throughout Italy. The Pontifical Irish College is located on a gated campus that includes a soccer pitch, swimming pool, and library.
Murzaku explained, "The courses our students will take through this program mirror the interdisciplinary courses we offer at Seton Hall. There's truly something to capture the imagination of each Seton Hall student in this program. We are excited to see the wonderful things our students will learn and bring back to our campus!"
Registration opportunities for this program will be open each semester. The deadline to apply for the Fall 2023 iteration is June 1.
For more information, please contact Professor Ines Murzaku at [email protected] or 973-275-5845.
Categories: Education, Faith and Service, Nation and World