2023 Archbishop John J. Myers Lecture Series on Law, Society & Faith Presents Pope Francis and Literature Lecture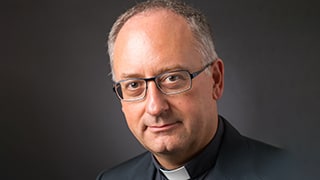 Father Antonio Spadaro
The Department of Catholic Studies and the G. K. Chesterton Institute for Faith and Culture proudly present "Bergoglio's (Reading) List: The Importance of Literature in Pope Francis' Pastoral and Political Vision." This event will take place on Wednesday, April 12 at 2 p.m. in the Beck Rooms (ground floor of Walsh Library). Join us for this lecture by our distinguished guest-speaker Father Antonio Spadaro, S.J.
This year's Archbishop John J. Myers Lecture Series on Law, Society & Faith will elucidate how Pope Francis' love of reading and literature underpins his work as a pastor and understanding of the world.
About the Lecture:
"The novel, literature reads the human heart, helps to accommodate desire, splendor and misery. It is not a theory. It helps to preach, to know the heart...." Pope Francis has always been a reader of literature. Today, a decade after his election, we will go in search of the formation of his thinking and pastoral attitude precisely, by building a map of Bergoglio's readings. It is thus possible to better understand his vision and perhaps even discover the roots of his way of understanding the world and being a pastor. By interweaving the readings of Hernández, Malègue, Dostoevsky, Manzoni and others, it is possible to sense what humanity Bergoglio has in his heart.
About the Speaker:
Father Antonio Spadaro, S.J., is an Italian Jesuit priest, journalist and writer. In 1998 he joined the community of the Jesuits' biweekly review La Civiltà Cattolica, and in 2011 he became editor-in-chief. He is a member of the Board of Directors of Georgetown University. He received a doctorate (S.T.D.) in sacred theology at the Pontifical Gregorian University, where he taught as a visiting professor at the Faculty of Theology. Since 2011, he has been a consultant to the Pontifical Council for Culture (now Dicastery for Culture and Education). He is an ordinary member of the Pontifical Academy of Fine Arts and Letters of the Virtuosi at the Pantheon. He has published approximately thirty volumes about theology in dialogue with contemporary culture. He is the author of the book with the first interview with Pope Francis, A Big Heart Open to God: A Conversation with Pope Francis (2013). He travels with Pope Francis on his Apostolic trips as a member of the papal entourage, and was appointed a member of the Synods of Bishops.
About the Archbishop John J. Myers Lecture Series on Law, Society & Faith:
This annual lecture series is a tribute to His Grace, The Most Reverend John J. Myers, fifth Archbishop of Newark, for his faithful and steadfast promotion of our Catholic mission and the leadership and guidance he gave to Seton Hall University. This series was inaugurated on the occasions of the Apostolic Blessing of the Holy Father Pope Francis and the first anniversary of the Department of Catholic Studies.
About the Sponsors:
Catholic Studies at Seton Hall University offers an innovative, interdisciplinary curriculum for students of any creed who are interested in deepening their knowledge of Catholicism's rich intellectual tradition and living heritage. Combining the study of history, philosophy, theology, literature, art, sociology, and other disciplines, Catholic Studies focuses on the Church's dialogue with culture and encounters with the world. Students interested in Catholic Studies have the option to pursue a major, minor, or certificate that complements and enhances the university's other degree programs and fields of study. For over 20 years the academic program and its variegated activities have stayed true to and fulfilled the Catholic mission and vision of the University. For more information, please contact Ines Murzaku, Ph.D., at [email protected] or Gloria Aroneo at [email protected].
The G. K. Chesterton Institute for Faith and Culture at Seton Hall University was founded in 1974 by Father Ian Boyd, C. S. B. Its purpose is to promote the thought of G. K. Chesterton and his circle, and, more broadly, to explore the application of Chestertonian ideas in the contemporary world. The Institute's work consists of conferences, lecture series, research, and writing. The Chesterton Review, founded in 1974, has been widely praised both for its scholarship and for the quality of its writing. The journal was founded by Father Ian Boyd, C. S. B., and is edited by Dermot Quinn, Ph.D.. It includes a wide range of articles not only on Chesterton himself, but on the issues close to his heart in the work of other writers and in the modern world. It has devoted special issues to C. S. Lewis, George Bernanos, Hilaire Belloc, Maurice Baring, Christopher Dawson, Cardinal Manning, J. R. R. Tolkien, the Modernist Crisis, and Fantasy Literature, and has published a Special Polish Issue, a Special Charles Dickens issue, the most recent "Special Conversion Issue," and many others. For information about the Institute and The Chesterton Review please contact [email protected] or visit the website.
Categories: Faith and Service