Google Hosts Virtual Q&A with HBCU Changemakers to Celebrate Black History Month
Monday, February 20th, 2023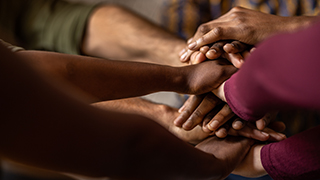 In celebration of Black History Month, Google hosted a virtual panel discussion on Feb. 16 titled "Leadership Learnings from HBCU Google Changemakers" with three HBCU alumni in leadership positions who shared how their unique undergraduate educations prepared them for their careers at Google.
Google promoted this event on Handshake, which Seton Hall students have access to through the Career Center. Students were able to discover the event through both Google's employer page and the general Handshake upcoming events page.
The featured panelists were Nathaniel Tindall, a Morehouse College alumnus, Willa Blasingame, a Tuskegee University alumna, and Jerrell Moore, a South Carolina State University alumnus. Tindall is the Global Head of Modeling and Technical Innovation, Blasingame is the Americas Head of Flow in Global Servers Operations, and Moore is the Global Head of Inclusion. The moderator, Francine Marquis, is also an HBCU alumna as she attended Hampton University.
Throughout the event, Marquis switched between asking the panelists prepared questions and student-submitted questions. The nature of the questions had panelists discuss their HBCU experiences, career advice, and leadership styles.
One question came from Jennifer, a North Carolina A&T State University student, who asked, "How can one stand out from other applicants in an interview?"
In response, Moore said to be excellent in everything that you do.
"Be excellent in your resume, and be excellent in your application completion," Moore said. "One thing I tell everyone when they interview at Google: Make sure you answer the question first. Then you can tell a story and do all the other stuff."
If you are interested in hearing more of the panelists' answers, the Q&A is available to stream on YouTube.
"Leadership Learnings from HBCU Google Changemakers" is a part of Google's Careers OnAir series. According to Google, "Careers OnAir offers virtual digital skills workshops on a range of helpful topics from Google's culture, to job resources." Google holds different Careers OnAir events for students and industry professionals, tailoring the topics to the different audiences.
Students can browse and register for Google Careers OnAir events through their website. Student-specific Careers OnAir events can also be found on Google's employer page on Handshake; as events approach, Google will post them on Handshake, and students can register to receive a reminder before the event starts.
Categories: None