Creating The Career Center of The Future Now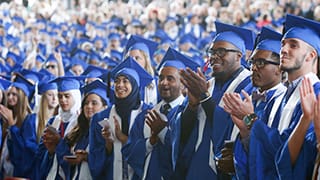 What does the Career Center of the future look like beyond cover letters, resumes, interviews and standard practices? What is that next iteration? And how do you prepare students for jobs that don't exist yet?
"In our strategic plan, Harvest Our Treasures, Goal #3 is creating that premier student experience. We're always thinking of that as we're making our decisions and choices on what's going to be best for our students. At the end of the day, we want to make sure that we take care of them as we would our own kids. In fact, our Career Center Director Jorge Rivera has a son who is a sophomore here," said Vaughn Calhoun, Ed.D., M.P.A., Assistant Vice President of Student Services and Dean of the Center for Academic Success.
The University is transitioning to a new academic advising model with a first-year advisor, a faculty advisor and a career advisor integrated into everything.
"We are shifting resources with the priority being for our students to succeed starting on day one. We are very intentional of doing outreach and making sure that they know who we are, what we're doing and how we can benefit them," explained Monica Burnette, Ph.D., Vice President of Student Services.
During COVID-19, many felt isolated. Transformation meant rebuilding and reestablishing trust to provide students with an experience that would rise above the routine. It was not just about helping with a resume because there was an interview tomorrow. It was more about making a place where students would want to come back, where they would see the value not just in the moment, but in the long term. It was about creating a new culture.
"We are working together to make the Career Center a destination because we felt it wasn't on the map. I saw the Seton Hall magazine article 'Suitable Leadership' on the Buccino Leadership Institute interdisciplinary team initiative led by student Jason Santos around Pirates Closet, creating a space for students to be able to utilize professional attire and I reached out to Jason. We wanted to collaborate and offer a space in the Career Center where students could come," said Jorge E. Rivera, M.A.'15, Career Center director.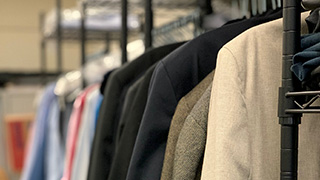 On Mondays and Tuesdays, many volunteers help keep track of merchandise. Inventory is an essential part of the work. From Wednesday through Friday, students can come in and select professional attire to wear for interviews and career-related events. They can keep the merchandise, hopefully for that second interview and perhaps to get hired. The initiative has evolved, so have collaborations. The Career Center is building a digital form for students to provide information on what they need. There will be a section where they can do a selfie and put it on Instagram to demonstrate this incredible partnership.
"In the end, it's the experience of walking into the Career Center and feeling welcome. Maybe throughout their lives, they felt underrepresented. This is a Center for all, and we're trying to create that experience and enhance that experience so that the students could walk away saying, 'Wow, they know my name, they're able to listen to my needs. And I want to go back to the Career Center.' Hopefully through those experiences, they get that job and now they're going to come back and help those future students. That's the mindset that we're trying to create, that it's reciprocal, right? That hopefully, they will give back at some point to the future generations," Rivera said.
The Career Center continuously looks for new ways to help students gain an edge. Rivera researched a brand-new resource, provided to Big East schools. Featuring the use of immersive realities, Seton Hall was able to access the Oculus premium VirtualSpeech App for job interview training. Students can practice interview presentations to gain more confidence in an immersive environment where everything is recorded. They can watch for distractions, eye contact, how many hesitation words they use, and receive tips to develop experience for actual situations.
Since the Career Center is tucked away in Bayley Hall, another step is providing easier access. Now career advisors visit students and offer drop-in hours at many schools and buildings. The career advisor for business majors has drop-in hours at Jubilee Hall, for communication majors over at Fahy.
The new Career Liaisons program creates a consistent line of communication among the Center and the schools. Deans and faculty members nominated as career liaisons meet at least once a month to share information in real time about events and anything career related. Now that more faculty and staff know about the events that are happening, it trickles down to the students and has a greater impact.
In addition to having New York City as a career destination, there are efforts to increase the reach to local cities. The University has expanded its presence in Newark, with a satellite space and Welcome Center in the heart of the city's Gateway Complex. It is staffed by a full-time liaison, able to tap into resources in local communities. Plans are underway to meet with businesses and talk about internships and career opportunities for students.
"We used to provide 60-minute workshops, which felt like attending class. We created snack and learns, 20-minute workshops with the idea that while you could snack on healthy treats, you can learn competencies. In the past, if you were to ask a student to define the Career Center, the first thing they would say is the resume center. But in the 21st century, we want to be known for everything that you could utilize for your future, for your career goals, and we're bringing in new resources," said Rivera.
The ability to work with different departments and with campus partners enables the Career Center to continue to grow. It takes a village.
The Senior Snack & Learn Career Series at 3:30 p.m. on select Wednesdays has been created through a partnership between Career Center to provide professional development experiences focusing specifically on graduating students. This workshop series focuses on career competencies and skills, including professional etiquette, networking skills and navigating that first job after graduation. Attending students will have ample opportunities to ask questions and practice new skills, all while enjoying delicious snacks.
Upcoming sessions include Career Readiness 101: Seniors (March 15), Maximize Opportunities: Career Fair, Networking (March 22), First Job Success & Professional Etiquette Tips (April 12), all at the Chancellor's Suite, and Budgeting 101 for College Seniors (April 26) at University Center Meeting Room (Rm. 206). Students with ideas or questions about upcoming senior programming can email [email protected].
The transformation appears to be gaining momentum. The Fall Follow-up Report of the First Destination of 2022 Baccalaureate Graduates explored career outcomes for 2022 graduates. It was based on 1,284 graduating seniors who reported their career status six months after graduation, and including those who were actively pursuing careers or graduate school, generated from an 88 percent response rate. The report found the overall employment rate at 98.5%, compared to 95% a year prior. The graduate school acceptance rate was at 98%, compared to 96% in 2021. Students' overall success rate in pursuing career-related employment or graduate school measured at 98.5% compared to 95% in 2021. The career status information was collected from 1,136 of the 1,284 baccalaureate graduates, resulting in an 88% response rate. The employment statistics do not describe the Class of 2022 employment rate but the percentages of the respondents who reported each career status.
The largest networking event of the year, the Spring 2023 Career Expo takes place on March 29. There will be over 100 recruiters looking to hire and network with our students and alumni from 3 to 5 p.m. in Bethany Hall. For those thinking about attending the Career Expo Event, the Career Center is hosting "Prep Hours" beforehand, where students can drop in to meet with career advisors, have resumes reviewed, practice elevator pitches, get questions answered before the Spring Career Expo. No appointment or registration is needed. That's from 1 to 2:00 p.m. on March 20, 22, 24, 27, and 28 in the First Floor Conference Room in Bayley Hall.
"At the Expo, we will allow our seniors to have an hour to meet with employers before the actual start of the career fair. So we are providing a VIP pass for our seniors to meet with employers before the general population comes in. We are trying to provide seniors with the opportunity to really excel," Rivera said.
For recent graduates, specifically for seniors who are still looking to get employed, in June there is a Get Hired Pirates Boot Camp. Designed to assist those entering today's competitive job market with their post graduate job search and graduate applications plans, this event includes workshops on topics like personal branding, job searching, interviewing and networking as well as a mini-Career Fair where recent graduates can network with potential employers.
"We want to create serious momentum to connect with our seniors so that they know we're looking out for them as they get ready to head to their next journey. And it's not just like okay, we're done and goodbye. Let's continue to keep open that line of communication," said Rivera.
Discover more about the Career Center's in-person networking events through the events and Engage pages. Please explore the Career Center website to learn more.
Categories: Campus Life, Education