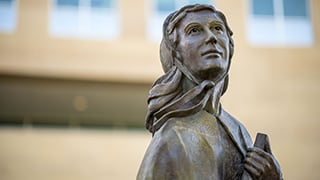 Each year, The Career Center celebrates students' accomplishments in experiential learning. These programs include internships, student teaching, clinical and service-learning experiences.
Winners are selected, from each school and college, for their outstanding work and contributions to their work sites, as well as their demonstration of leadership, both on and off-campus.
This year, we are unable to honor the student winners in person, however, we've put together a celebratory YouTube Video Premiere on Tuesday, May 18 at 7 p.m. E.S.T. to highlight their achievements. Student winners submitted videos accepting their awards and deans from each of the schools and colleges submitted videos congratulating the students on a job well done. 
Our 2021 Winners
College of Arts & Sciences: Madison Fruchter
College of Communication and the Arts: Meagan Hailey Gonzalez
School of Diplomacy & International Relations: Nia Toombs
College of Education & Human Services: Cecelia "CeCe" Pateman
College of Nursing: Ryan Brown
School of Health & Medical Sciences: Dana McClure
Service Learning -- Center for Community Research and Engagement (CCRE): Claudia Romani
Stillman School of Business: Juliana Macias
Congratulations to all award winners – we are so proud of you!
Categories: Campus Life