Poster presentations from students highlighted important Biochemistry/Microbiology work being done in the Northern NJ region.
"How do we stop the next pandemic before it starts?" That was the question of the mind of the Seton Hall community on November 30th, when the University hosted the Fall 2022 Meeting of the Theobald Smith Society.
The Theobald Smith Society, named after famed bacteriologist Dr. Theobald Smith, is the Northern New Jersey section of the American Society for Microbiology. This event brought together students and faculty from local universities including Rutgers, Rowan, William Paterson, and Princeton Universities along with students from Seton Hall. Over three dozen attendees came together in McNulty Hall Science Center to present posters and listen to talks on cutting-edge microbiology research with potential applications in health sciences and to impact how we treat and diagnose infectious diseases.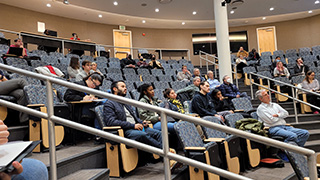 Attendees heard talks from leading researchers in the field.
The keynote speaker for the event was Dr. Esther Babady, Director of the Clinical Microbiology Service and Professor in the Departments of Laboratory Science and Medicine at Memorial Sloan-Kettering. She was invited to give a talk as the ASM Distinguished Lecturer for 2022. Dr. Babady's talk focused on the challenges with diagnosing Clostridium difficile (C. diff); the most common cause of Healthcare Associated Infections. She explained how C. diff, similar to COVID, can be both Symptomatic and Asymptomatic, and the challenges that causes for doctors and clinical microbiologists to determine what actually constitutes an infection. Dr. Dane Parker of Rutgers University gave his Young Investigator Award speech on the metabolism of another infectious agent: Staphylococcus aureus. These talks were followed by lightening talks from students Lauren Hall, Ty'Celia Young, Rachel Carr, and Melissia Woortman as well as poster presentations.
The event was brought together by the executive committee of the Theobald Smith Society. Dr. Gregory Wiedman, Assistant Professor in the Department of Chemistry and Biochemistry at Seton Hall University helped coordinate the event for SHU. He is also the incoming President-elect of the Theobald Smith Society. The event was well-received by all in attendance and hopefully sparked student interest in Public Health and that it will encourage further participation in future events.
Categories: Health and Medicine , Research , Science and Technology