Physics Major will Join Ph.D. Program in Biomedical Engineering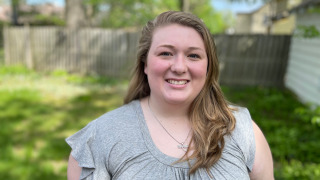 Alexis Duffy, Physics Undergraduate Student will Join Ph.D. Program in Biomedical Engineering.
Alexis Duffy, an undergraduate physics student, is one among other students who proved that research work can be started as early as the sophomore year in an undergraduate program and successfully completed by the time of the graduation. Alexis will be graduating in May 2021 and has received acceptance for the graduate program in Biomedical Engineering from Cornell University, RICE University, Syracuse University, Rutgers University, University of Delaware, and University of Pennsylvania. She has decided to join the fully funded Ph.D. Program in Biomedical Engineering at the University of Delaware in Fall 2021.
Alexis Duffy joined the Physics program at Seton Hall University in Fall 2017. She was very focused on successfully advancing in her course works while exploring her interests in different subcategories of physics or associated fields. She found herself motivated to pursue applied research projects in the overlapping areas of physics and biology.
In her sophomore year, she joined biophysics laboratory, directed by Dr. Shojania Feizabadi, to further learn about this field. She sees her experience, "As a wonderful opportunity that is not always offered to undergraduate students at other institutions. Through working in the Biophysics laboratory, incorporating physics and biology has led me to discover my true passion, which is to combine the two to make further advances in the medical field. I have been able to grow as a researcher as well as develop the necessary skills to continue to follow my passion in the future."
Alexis became a significant contributor in ongoing research projects of the Biophysics laboratory, presented her works in National and International conferences and earned co-authorship in a published paper: Feizabadi, M.S., Alejilat, R.S., Duffy, A.B., Breslin, J.C., Akintola, I.I. (2020) A confirmation for the positive electric charge of bio-molecular motors through utilizing a novel nano-technology approach in vitro. International Journal of Molecular Sciences, 21(14), 4935.
Alexis Duffy is one of the recipients of the Mid-Career Clare Booth Luce Scholarship at Seton Hall University. During her free time, she enjoys reading, spending time with her family and friends, and working in children summer camps, where she is usually involved in working with children with special needs. "Seton Hall University has given me the opportunities to pursue undergraduate research and overall offered me a great experience during my time here. I would not be where I am today without the faith that my faculty showed in me as a student and a scientist."
Categories: Arts and Culture, Education, Research, Science and Technology