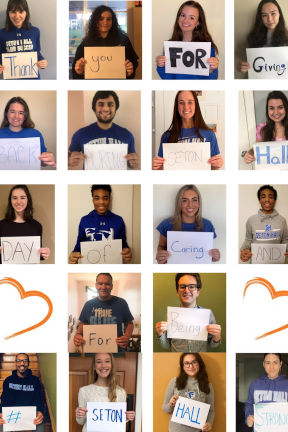 Over 1,400 supporters donate more than $365,000 in time of tremendous student need; Pirate Pride is "alive and well" during challenging times
In spite of the economic uncertainty caused by the coronavirus, Setonians everywhere demonstrated their Pirate Pride and responded in droves to the University's call for a "Day of Caring" by donating over $365,000 to support programs that will assist students particularly impacted by the pandemic.
"I chose to give because my daughter Jessica graduated from Seton Hall in 2018. Some people are hurting. I'm helping because Seton Hall is a great University and I want other students to have the same experience she did," said Jim Stivers, the parent of alumna Jessica Stivers '18 in sharing why he decided to take part in the campaign.
The Day of Caring shattered the University's previous records for philanthropy conducted through targeted, brief programs like this 36-hour effort.
"We launched our Day of Caring, not knowing the outcome," noted Anthony Bellucci, M.B.A. '18, Associate Vice President of Alumni Engagement & Philanthropy. "But we did it with deep faith in our alumni and many supporters who continue to stand with us in these difficult times. I am so grateful for the compassion shown in support of our great students and University."
The tremendous response means that much-needed funds will go to key areas that can provide relief for students at this time: the Student Emergency Fund, Seton Hall Fund, Law School Dean's Emergency Assistance Fund, and Pirate Blue Athletic Fund.
"Our student-athletes were affected by the pandemic as winter 2020 championships and spring 2020 sports were canceled, depriving so many of our young men and women, especially our seniors, the opportunity to compete in the sports they love" added Athletic Director Bryan Felt '97/M.A. '05. "The support from our Pirate Blue faithful will help ease the stresses our student-athletes are experiencing. We cannot thank our Pirate fans, alumni, and our supporters enough."
The Student Emergency Fund will assist students with costs related to food, travel, rent, utilities and so much more. "We are so very grateful for the infusion of resources through the Day of Caring," added Dr. Shawna Cooper-Gibson, Vice President of Student Services. "We have seen an increase in the volume of student requests and continue to do all we can to help them navigate through the financial uncertainty many of them face."
The Seton Hall Law community was tremendously generous, noted Dean Kathleen Boozang. "There are so many demands on our students right now – surviving in a period of economic insecurity, homeschooling children while studying for their own law school exams, and, for the Class of 2020, facing the uncertainty of when they will sit for the bar exam. But our students can find great comfort in the incomparable loyalty of the Seton Hall Law network. It is truly heartwarming and is a testament to how we remain Seton Hall Law Strong."
Overwhelming acts of kindness from Pirates around the world illuminated the true meaning of the campaign: To join together as one Seton Hall family, caring for them through troubling times. This year's Day of Caring set a bold precedent for what it means to rise to any occasion, and the community rallied to show how they are #SetonHallStrong.
Although the Day of Caring program itself has ended, Seton Hall alumni and friends can continue to support students by donating to Seton Hall's COVID-19 Relief Funds.
View a special thank you message from our students, campaign results, and messages from members of the community in support of our students »
Categories: Alumni , Campus Life