Pesto Joe Is on the Rise
Tuesday, September 5th, 2023
Seton Hall alumni are tenacious, finding opportunity in ways that showcase just how unique they are, and that holds true for Carina Castagna '21/M.P.A. '22 who, with both grit and grace, found a way to turn her father's loving memory into a rising legacy with her business, Pesto Joe, in West Milford, NJ.
Castagna remembers coming into Seton Hall ready to take on new challenges. "I came in with my arms wide open," she said. Coming from a first-generation household, college had seemed like a distant reality, there was no set path and little financial support to rely on. She shared, "I had gotten a scholarship from the Educational Opportunity Program, and so to me it was like a dream walking onto campus." Though her junior year was rattled by the COVID-19 pandemic, Castagna doubled down and applied for a fast-tracked master's program. In 2021, Castagna graduated with her B.A. in Communication with a double major in Catholic Studies and a certificate in Business with only one more year to go under a dual degree modality.
During the summer of 2021, Castagna's father suddenly passed away. "It was totally unexpected," she said. "I had taken the time to collect myself, but I found it to be more helpful to have my brain directed towards something," she explained. "I needed something I could count on." Pushing through her last year, she received her M.P.A. with a concentration in Nonprofit Management in May of 2022.
Her father was her family's sole source of income, and the weight of heading straight into the work force fell on her. Realizing she still had so much to deal with emotionally, she took time to herself. "Thankfully my mother and I were able to take time with one another and slow life down a little bit," she explained. Castagna and her mother embarked on a road trip commemorating her father's passing. "We did a 16-state, month long road trip and we got to share and cry a lot in the car together… it was a nice healing experience," Castagna shared.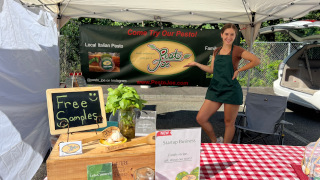 Carina promoting Pesto Joe at farmer's market circuit in West Milford, NJ
It was during the summer of 2022 in what would soon become the "pesto mobile" she'd drive to farmer's markets to promote her brand and sell her product that the business plan would be born in.
Castagna used the road trip to heal and also participate virtually in the six-week long Pirate Accelerator program led by the Center of Innovation and Entrepreneurship that earned her the seed money to start her business. "When [my dad] had passed, it wasn't an automatic thought. When I got the email for the Pirate Accelerator program, that was when I put the pedal to the medal… it was more than just a memory at that point, it became a roadmap to creating a family business."
Taking off in December of that year, it is behind the name that the true legacy is unveiled. "My dad had many nicknames, and one was Pesto Joe… my dad couldn't cook at all, but he made really good Pesto," Castagna explained. "That was something my family had always joked around with."
Centered beside the words "Pesto Joe" on the logo, is the slogan Smile Wherever You Go. "My father was very vivacious, exciting, and loving," Castagna shared. "The slogan was based off of his legacy and just always having a smile on his face no matter what he was going through. He was the type of guy that would give you the shirt off his back even if it was raining." Her mission stems from cherishing the time she had with her dad and wanting to give families a chance to slow life down, set time aside to have dinner together, and love on one another. "I want Pesto Joe to be a reason families can really enjoy time together" she explained.
As Castagna unfolded more of her journey as an entrepreneur, she revealed that she had to be fluid and accepting of what works best. She emphasized the amount of research she gathered, taking time to reach out to CEOs and food founders through LinkedIn and connecting with others within the farmer's market circuit to build community. Castagna noted that oftentimes it was about taking leaps of faith, which is the very thing that has kept her grounded. "I give myself time in the mornings for reflection and prayer," she says. "I thank God for the day, and I am always focusing on what I can be thankful for."
Seton Hall alumni, like Castagna, have proven to be driven, but they are also devoted. Castagna experienced this firsthand as she recalled an encounter with a fellow Pirate at a farmer's market. "I was just explaining my journey of creating [Pesto Joe] in memory of my dad. Someone asked me where I went to school, and I said Seton Hall; they immediately pulled out their wallet. They not only bought a few containers, but they put money in my tip jar, and they said, 'I'm an alum, it's so nice to support you.'" Castagna realized how passionate Seton Hall alumni are about supporting the University and other alumni and students. She says that by keeping the Pirate magnet on her tent at every farmer's market she has, without fail, connected with several other alumni and faculty members.
Since graduating, Castagna has remained engaged, returning to campus both in-person and virtually for various events and to speak to current students. She is also a current member of the Young Alumni Council (YAC), which is a group of 30 graduates who help build and expand engagement and philanthropy of all graduates of the last decade (2013 – 2023) through an annual calendar of events, and development opportunities. "Coming into Seton Hall, I hadn't had a community yet," Castagna said. "I really wanted to build something that I could always go back to and rely on. In turn, I love to give back and help students that I can relate to in so many ways."
Learn more about Castagna's startup, Pesto Joe »
Video Produced By: Holly Ruvo.
Categories: Alumni, Arts and Culture