Tuesday, November 24, 2020
Pirate cookie press, Pirate socks, and Seton Hall Christmas ornament
Seton Hall has remained steadfast in its philanthropic efforts to respond to immediate needs with generosity, caution, and flexibility. In addition, the University has stayed hopeful in its efforts to navigate ever-changing circumstances for a safe and successful academic year, which includes pivoting its efforts for many events, initiatives, and fundraising campaigns much like Giving Tuesday on December 1st, 2020.
As the holiday season begins, Seton Hall is launching its Giving Tuesday campaign, acknowledging the global giving movement and its efforts to celebrate philanthropy and the spirit of giving back as the Christmas season rolls in; the Division of Volunteer Efforts (DOVE) and the organization's mission has been the highlight. Compared to past years, this year looks a little different because the need is different. While DOVE's mission remains a strong touchpoint for the campaign, it is the remarkable work the organization has done throughout the fall semester with its DOVE Philanthropy Project in honor of that mission that has become the focus.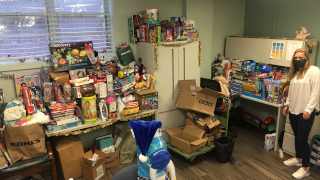 DOVE Christmas in October Toy Drive
Due to the effects of the COVID 19 pandemic, the Seton Hall community, as well as local and global communities around the world have been adversely affected. Beginning in August of 2020, DOVE launched its tiered project to address these issues. The first phase was a relief drive for the Maison Fortune Orphanage in Hinche, Haiti where essential items and donations were collected to support the children at Maison Fortune. Shortly after, DOVE's "Christmas in October" Toy Drive supported local community partners, as well as impoverished children in Appalachia, West Virginia as parents look to support their families for the Christmas season. The third phase, the Hunger and Homelessness Food Drive, aimed to support those who suffer the effects of food insecurity.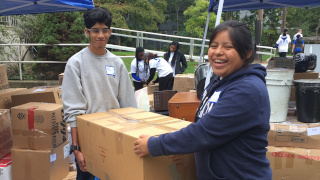 DOVE Students at Hunger and Homelessness event
The DOVE Philanthropy Project has been a tremendous success thus far, raising more than $20K to help create a transformational change in the lives of so many that are in need. There is still time to support them. As the alumni community, students, faculty and staff, the Priest community, family, and friends of the University begin prepping for the Christmas season, Giving Tuesday will be a great cause to ensure that their holiday celebrations are Pirate centric. In supporting the DOVE Philanthropy Project this year, specifically on December 1st and with a gift of $100 or more, as a special thank you, donors will have the opportunity to receive a variety of exclusive Pirate Christmas items, as well as both Pirate sock designs.
Celebrate Giving Tuesday with Seton Hall by supporting DOVE and upholding its mission to raise awareness of social injustices, affirm the dignity of all lives, but above all, reflect the love of Christ to others by giving back in times of great need. Make your gift today!
Categories: Alumni