Seton Hall's Many Are One Gala Returns with 36th Annual Celebration
Friday, September 15th, 2023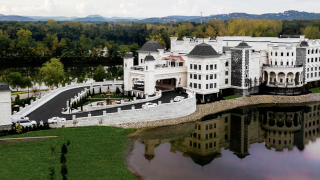 The Legacy Castle in Pompton Plains, New Jersey
Many Are One is an event at which the entire Seton Hall community comes together to celebrate the University as one. This year, the cherished event will be returning in person once again since 2019 to honor our 2023 Most Distinguished Alumnus and to engage in a night of celebration featuring live music from the band, The Projekt, a premium bar, 50+ item cocktail hour, dancing, networking and so much more. The emcee for the evening will be Seton Hall alumnus John Fanta '17, national college basketball broadcaster and writer for FOX Sports.
The Most Distinguished Alumnus Award is the most prestigious alumni award given by the University. This award is presented to an individual who has been recognized as an outstanding leader in his or her professional field.
The recipient of this year's award, Patrick "Pat" Walsh '90, is the Managing Partner and Chief Executive Officer at Withum and leads one of the country's top 25 advisory, accounting, and tax firms. Pat is also a Trustee of the Boys and Girls Club in his hometown of Newark, NJ, a member of the Leadership Council for Habitat for Humanity of Morris, Greater Plainfield, and Middlesex Counties. Pat's long-standing role in the Seton Hall community, his exceptional leadership, and his dedication to volunteering and serving in his local communities make Pat the model recipient for this year's award and what it means embody the values that are embedded in the mission of the University.
In the spirit of coming together as one, Seton Hall and Withum partnered to create a pilot program for students majoring in accounting. The CPA Pathway Apprenticeship aims to give first-hand public accounting experience in exchange for additional credits. This will help prevent students from having to fulfill the existing 150 credit hour requirement.
What makes this year even more special is the nod to Pat's brother and fellow Seton Hall alum, Edward "Ed" Walsh '87, who passed away in 2020. Ed had a notable career in law, and, like his brother, he showed remarkable commitment to serving his community. To honor the memory of Ed, Pat established the Edward Walsh '87 Endowed Scholarship Fund to help Seton Hall students. Candidates for this award are called to embody the characteristics of how Ed lived his life – a caring and value centered individual who demonstrated exceptional leadership. Ed would selflessly give himself in friendship and service to those who entered his life, and this dedication is mirrored in how others celebrate his legacy.
This year will also pay special recognition to the virtual Many Are One honorees from 2020, Catherine Alicia Georges, Ed.D. '65, and 2021, Dr. Sampson Davis '95. The gala not only celebrates alumni, it also helps raise funds to influence current students through the Many Are One Endowed Alumni Legacy Scholarship Fund. Proceeds from the gala go toward continuing the legacy of a Seton Hall education and are awarded selectively every year.
Graceanna Gargano '24, a recipient of the scholarship, stated, "Receiving the Alumni Legacy Scholarship has not only helped me financially through the last two years of my undergraduate education at Seton Hall, but signifies a deeper connection to the alumni community... It has made me realize that I will always have a place at Seton Hall, because the Alumni Legacy Scholarship has offered me a glimpse of what it is to be a part of a forever community."
Adorning the halls during the evening will be various items and experiences for the featured silent auction including Disney Park items, exclusive gift baskets, and even a sponsored table to the next Many Are One in June of 2024 to name a few. It is through the support of many generous sponsors that are making Many Are One possible including but not limited to Withum, Liberty Mutual, AMBA, and more.
Many Are One Gala shines as a testament to the unwavering spirit of the Seton Hall community. With the return of this special event, it is a time not only to celebrate the past but also to shape the future. Many Are One is not just an event; it's a beacon of unity, generosity, and the enduring Seton Hall spirit.
To purchase tickets or sign up for sponsorship opportunities, click here.
Categories: Alumni