New CPA Apprenticeship Program for Aspiring Accountants
Monday, August 21st, 2023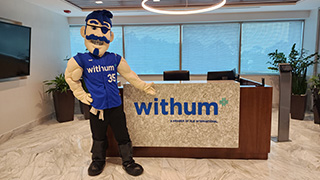 Seton Hall University and Withum have announced a pilot program aimed to ease the burden of fulfilling the 150 credit hours requirement for accounting students. The CPA Pathway Apprenticeship supports the AICPA and NASBA's initiative to help alleviate barriers for students considering a career in public accounting.
This program gives students the opportunity to earn the extra credits needed to hold their Certified Public Accounting license upon passing the exam, gain first-hand public accounting work experience and receive compensation during their final year of school. This is the second partnership between a university and a firm to provide students with a CPA curriculum-driven work experience for college credit.
"We truly value Withum's partnership and investment in this innovative apprenticeship model and the Seton Hall accounting talent pipeline," said Mary Kate Naatus, Ph.D., Assistant Provost and Dean of Continuing Education and Professional Studies at Seton Hall University. "The combination of a strong curriculum with excellent faculty members with the real world 'work for credit' experience on-site at Withum is an exemplary model that mutually benefits the students, industry partner and the broader accounting field."
Students will be full-time apprentice-level team members at Withum, with an opportunity to work in all service lines and industries while earning credits for their curriculum-driven experience alongside University coursework to fulfill the remaining credits needed to reach the credits hour requirement to hold a CPA license. The students may also sit for the CPA exam during the program, affording them the opportunity to become licensed CPAs by the time they start their accounting career as full-time, entry-level Staff I team members at the Firm.
During a time when the war on talent remains at an all-time high in the accounting industry, the CPA Pathway Apprenticeship is an innovative solution to expose emerging talent to the day-to-day life of an accounting professional at Withum. This one-year pilot program aligns with the AICPA's Pipeline Acceleration Plan, which focuses on addressing the talent shortage through a variety of changes, including a paramount focus on partnering with educational institutions to expand the talent pool.
"We are proud to partner with Withum on a groundbreaking initiative that empowers aspiring accounting students with invaluable real-life experience while they pursue their academic goals," said Joyce Strawser, Ph.D., Dean of Stillman School of Business at Seton Hall University. "As we join hands with Withum to address the talent shortage in the accounting industry, the CPA Pathway Apprenticeship Program embodies our shared commitment to fostering a diverse, skilled, and vibrant accounting profession. Together, we are paving the way for an exciting and rewarding career path for our students."
As a firm headquartered in New Jersey for the past 50 years and a 167-year-old University, Withum and Seton Hall already had common ground on which to build the program together. "Withum has a longstanding relationship with Seton Hall and is a well-respected, nationally recognized firm with a reputation around campus for being a fun and innovative place to work," said Pat Walsh, Managing Partner and CEO of Withum and Seton Hall alum '90. "We have a mutual desire to fuel the talent pipeline and support the longevity of accounting as a sustainable career. Our goal is to use this experiential learning program to help break accounting stereotypes, enable students to get a taste of what the profession truly is about and highlight the value of this profession as an exciting career."
Five Seton Hall students were selected to participate in the program, which will begin in September 2023. Among those students is Amaury Flores, who said, "Everyone knows how hard it is to obtain the CPA certification, and with this program, I am substantially closer to obtaining the certification. With the help of Seton Hall University and Withum, I can now continue my academic career with the people who helped me get here."
With a passion to see the accounting field thrive with new talent, Seton Hall University's Chair of the Accounting Department, Mark Holtzman, C.P.A., Ph.D., and fellow faculty member, Danielle DiMeglio, M.B.A, worked diligently to create a promising partnership with Withum and developed the academically driven program for accounting professionals.
Seton Hall's Stillman School of Business was the first private business school in New Jersey to earn accreditation from the Association to Advance Collegiate Schools of Business (AACSB International). Decades later, the School continues to maintain professional accreditation from AACSB. The Stillman School of Business is also the only school in northern New Jersey with both business and accounting accreditation – making us one of only 188 institutions worldwide to hold an additional, specialized AACSB Accreditation. Seton Hall University offers a B.S., M.S. and M.B.A. in Accounting in addition to the new CPA Pathway Apprenticeship professional development program.
Categories: Business