What Great Minds Can Do: Bryan Yeoh Quan Jin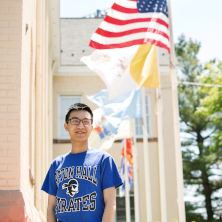 Bryan Yeoh Quan Jin's success at Seton Hall stems from his early access to engaging learning opportunities. An ambitious, first-generation college student from Malaysia, Bryan took a free online Russian class at Seton Hall the summer before his freshman year. In his first semester, he joined a research project and worked alongside upper-class members, graduate students, alumni, and faculty — including the dean of the School of Diplomacy and International Relations. "I approached my professor about doing research, and right away she recruited me for the team. I was in disbelief that I could work on research with the dean of the school as a freshman. I don't think this could have happened anywhere else."
For Bryan, this was just the beginning. He discovered a wealth of opportunities as he tapped into the power — and support — of his well-connected professors. "I owe so much to the Seton Hall professors; they genuinely cared about my development and used their resources to open so many doors for me." Highlights of Bryan's accomplishments include completing a second research project that focused on foreign policy in Indonesia, securing a semester-long policy and research internship in Washington, D.C., and attending a School of International and Public Affairs conference at Columbia University.
Along the way, Bryan found two influential mentors: a Malaysian political minister and Singapore's first secretary for economics. "This was a dream come true. My career aspiration is to work in international affairs for South East Asia, and I met two key leaders in this area. We established lasting relationships through many coffee meetings, and they gave me invaluable career guidance."
"When I first came to Seton Hall, I was far away from my family and a lot of things were unfamiliar to me; but friends and faculty were very welcoming and helpful. It made the transition easier for me." With the ease of settling into his new community and his determination to embrace all Seton Hall had to offer, Bryan pursued his personal interests rigorously. His passion for Russian language and culture inspired him to minor in Russian and become an executive board member of the Slavic Club, which awarded him a $17,000 merit scholarship.
Bryan also participated in the University Honors Program and wrote about international news for The Stillman Exchange, the business school's newspaper. He joined the University Chamber Orchestra and served as a founding board member of Seton Hall's Phi Delta Theta fraternity chapter, where he sharpened his leadership skills and gave back to the community through various charitable events.
A museum lover and a "foodie," Bryan also took advantage of Seton Hall's easy access to New York City. He made frequent trips — sometimes blocking out entire weekends — to visit its major museums and restaurants. "I still have not made my way through the entire city, but I hope to do so one day."
Bryan credits the University with changing his outlook profoundly. "I used to be more shy; but through my experiences and rewarding relationships with peers, faculty, alumni and professionals, I gained the confidence I needed to break out of my shell. My exposure to so many different viewpoints has also helped me to break out of some of my cultural norms of conformity. My Seton Hall experience has truly been life changing."
Seton Hall Career Highlights
Two research projects
Two internships
International news writer, The Stillman Exchange
Vice president, the Slavic Club
Honors Program
Seton Hall Chamber Orchestra
Founding member, Phi Delta Theta (Seton Hall Chapter)
Volunteer, Morning Run Service Project
Volunteer, DOVE Service on Saturdays