Counselor Handbook
Seton Hall University 2023/2024 Guide to Admissions
Seton Hall is one of the country's leading Catholic universities, it has been developing students in mind, heart and spirit since 1856. Home to over 10,000 undergraduate and graduate students and offering more than 90 rigorous majors.
Seton Hall By The Numbers
---
2023 Freshman Admitted Student Profile
1580
First-time Freshman Enrollment
6013
Undergraduate Enrollment
150+
Student Organizations
SAT
Average: 1300
Middle 50%: 1180-1390
ACT
Average: 29
Middle 50%: 26-31
Admission Application Available
Free Application for Federal Student Aid Opens. ASAP after 1/1
First Early Action Deadline. Decision released in mid-December
Second Early Action Deadline. Decision released in mid-January
First Regular Decision Deadline

Second Regular Decision Deadline
Pirate Preview on the Seton Hall Campus

Application At A Glance
---
How to Apply
To learn more about the application process, follow this link.
Test Optional Policy
Seton hall offers a test-optional policy which gives applicants the choice to submit test scores for consideration. We recommend students who fall within our middle 50% (1180-1390 SAT and 26-31 ACT) test scores to submit their scores for review with their application.
Demonstrated Interest

Another key component of our admission review is demonstrated interest. That means taking a campus tour, coming to Seton Hall for an upcoming Visit Day (mini-Open House), attending one of our two fall Open House events, scheduling a one-on-one meeting with an admissions counselor, attending a virtual event and reading our emails are all important.
We value students who have done their homework and have taken the time to get to know Seton Hall and really understand what we offer. In their college search, applicants are looking for the right fit. When we review applications, we are also looking for the right fit, and part of that fit is making sure that applicants have gotten to know us and are serious about becoming a member of our community.
| Application Materials | Traditional | Test-Optional |
| --- | --- | --- |
| Submitted an Admission Application | ✔ | ✔ |
| Pay the $65 Non-Refundable Application Fee | ✔ | ✔ |
| Submitted Official SAT/ACT Scores From Testing Agency | ✔ | |
| Submit a Copy of High School Transcript | ✔ | ✔ |
| Teacher Recommendation Submitted | ✔ | ✔ |
| School Counselor Report Submitted | ✔ | ✔ |
Merit Scholarships
All Seton Hall applicants are automatically considered for a merit scholarship. Scholarship amount is based on the student's academic profile. We also offer special scholarships for which students can apply. Visit this link for more information.
Need-Based Scholarships
The only way for students to find out if they qualify for need-based assistance is if they file the Free Application for Federal Student Aid (FAFSA). It is encouraged that all students file the FAFSA.
Open Houses – April 23

Join us for an in-person open house experience to tour campus, learn about our academic programs, and meet current students and faculty.
View our upcomming open houses
Visit Days – June 12, July 10 and August 14

Join us for an exclusive on-campus event to learn more about our highly ranked programs, our application and enrollment process, and scholarship opportunities. Enjoy lunch, a panel with admissions counselors and students, and a tour of campus.
Learn more about visit days
Campus Tours – In-Person and Virtual

Join us for a tour of the Seton Hall campus led by a current student. Learn about programs, see campus, and ask questions. You will also have the opportunity to sit in on an information session led by an admissions counselor.
Check out our campus tours
Group Tours

Join us for a group tour if you have 10 or more people registering.
Request a group tour
Find Your Admissions Counselor
---
Find your counselor for your area
Meet your admissions counselor using this link
To request an admissions counselor, for a presentation, panel, etc., follow this link
Signature Learning Experiences
---
Open House
---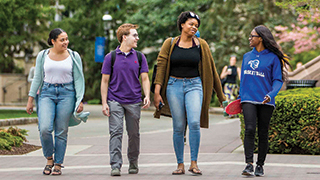 Learn More About Open House
Join us virtually. Tour campus, learn about our academic programs, and meet current students and faculty.