At Seton Hall, we want to help you realize your college dream by making a quality education as affordable as possible. That's why we provide over $96 million a year in financial aid to our students. At Seton Hall, 98 percent of our students receive some form of financial aid, and about 97 percent of our students receive scholarships or grant money directly from the University.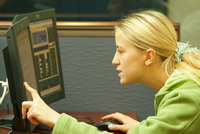 Many students are surprised to learn that the actual cost of attending Seton Hall after they receive scholarships and grants may be a lot less than they think. One of the biggest mistakes families make is ruling out a school early in the application cycle due to the anticipated expense. In actuality, you won't know the bottom line cost until about April of your senior year of high school, after you have received financial aid packages from all the schools to which you applied. After reviewing the aid you are offered at each school, you can compare the actual bottom-line cost of each school. In the meantime, visit our cost calculator for an estimate.
Scholarships
All students at Seton Hall are automatically considered for a scholarship at the point of admission based on their academic record. Generally, the higher a student's academic standing, the higher the scholarship award. Notification of these awards is sent along with your admission decision. These awards are merit-based and do not require you to file the FAFSA.
In addition, there are many other scholarship opportunities available at Seton Hall. These are specialized awards for students with specific interests or talents, like pre-med students or students with a strong record of community service, those interested in our debate team or pep band, or children of alumni, to name a few. Many of these awards require a special application and have an application deadline of January 15. Learn more or apply today by visiting www.shu.edu/go/scholarships
We also encourage you to investigate outside scholarship opportunities from local organizations like the Lions club, Rotary club, your parent's employers, and large companies like Walmart or Coca-Cola. You may also want to visit some college scholarship web search services like that offered by the College Board, FastWeb.com or FinAid.org. FinAid.org also has many useful calculator tools that will help you calculate your loan repayments, college costs and many other valuable tools.
Applying for Financial Aid
Scholarships from Seton Hall are only one source of financial aid. In addition, you may qualify for need-based assistance from the federal or state government, as well as from Seton Hall University. The only way to find out if you qualify is to file the Free Application for Federal Student Aid (FAFSA).
Why file?
Many families are under the impression that they shouldn't bother filing the FAFSA form because their income is too high and they won't receive any financial aid. This is a common misconception because the FAFSA takes more than income into consideration. While you are not guaranteed to receive need-based grants, everyone who files the FAFSA qualifies, at a minimum, for a low-interest student loan. Filing is also the only way to apply for a parent PLUS loan or to see if you qualify for a federal work study job.
How to file:
The FAFSA is the only form required at Seton Hall (we don't require the CSS Profile). There is no fee to apply and you can apply online by visiting studentaid.gov. Make sure you list Seton Hall on your FAFSA form, along with our code: 002632.
The federal government has also created a tutorial video to assist you in completing the FAFSA. You will also need to create an FSA ID which is used to log in to your account. Here is another helpful video to assist you in creating your FSA ID.
When to file:
It's important to file your FAFSA as soon as possible after October 1 of your senior year (if you are an incoming freshman), preferably no later than November 1.For Fall 2023 freshman applicants, the FAFSA will open in December and should be completed by January 1 or as soon as possible. It is critical to file on time as some aid is given on a first-come, first-serve basis.
The FAFSA will ask for biographical information as well as information from your tax return. You will have the option of using the IRS data retrieval tool which will pull information directly to your FAFSA from the IRS database. We strongly encourage you to use this tool as it will make filing easier and more accurate. Please note however that the data in the IRS database may lag by about two weeks. The federal government provides a useful resource and blog with tips for filing the FAFSA.
A good way to get started and understand what information you'll need is to complete the FAFSA on the Web worksheet and also explore the information on studentaid.gov. When completing the FAFSA, if you have questions please feel free to call Seton Hall or the federal financial aid hotline at 1-800-4-FED-AID.
What happens after you file?
It will take about two weeks for the government to process your FAFSA and the results will be e-mailed to you on a form called a Student Aid Report (SAR). This lets you know your expected family contribution (EFC) and if you qualify for a need-based grant from the federal government. The federal government will also send your results to your state so they can review your data and determine if you qualify for a need-based grant from the state. If you are from New Jersey, please be advised that the State of New Jersey will also need you to answer a few additional questions. For more information, visit the Report Additional Information tab on the website for the Higher Educational Student Assistance Authority (HESAA) at www.HESAA.org.
Why is your EFC important?
Your expected family contribution (EFC) will determine if you are eligible for a need-based grant from the federal or state government as well as Seton Hall. In addition, your EFC will be used to determine your financial need. Seton Hall takes the total cost of education at the University — tuition, fees, room and board, books, travel, personal and miscellaneous expenses — and deducts the Expected Family Contribution calculated by the government. The amount remaining is your financial need. (Total cost – EFC = need). While we do not meet full need, this formula will determine your level of need which will determine if you qualify for federal work-study and if your student loans will be subsidized or unsubsidized.
If you would like to get an estimate of your EFC prior to filing your FAFSA, the federal government provides a tool that will help you forecast the results of your FAFSA.
When will I know the bottom line?
If you filed a FAFSA and listed Seton Hall University, we will receive your FAFSA results from the government and use this to put together a financial aid package for you. This package will provide you with a summary of the total cost of education (tuition, fees, books, room and board, travel, personal expenses, etc.) and also all forms of financial aid for which you qualify, such as scholarships from Seton Hall and need-based grants from the federal or state government. In addition, your award letter will inform you of the loans for which you are eligible as well as work study eligibility. The financial aid package is intended to give you a clear understanding of the bottom-line or net cost after all financial aid is applied. You should expect to receive your financial aid package in early April if you filed before March 1.
Once you receive your financial aid package (i.e. award letter), you may have questions and need help understanding the awards and your next steps. We have put together a helpful video to provide you a step-by-step walk through of your award letter and address many of the most important things you should know.