Seton Hall: A Leader in Health Care
Seton Hall has a long and rich history of preparing great minds to serve society as leaders in the field of health care. With state-of-the-art facilities, highly ranked programs and stellar faculty, students are challenged in dynamic, hands-on classes which help set them apart from their peers and distinguish themselves as future leaders in the job market.
Seton Hall offers many exciting degree programs for students looking to pursue a career in the healthcare field, as follows:
Athletic Training
Interprofessional Health Sciences

Community Health and Wellness
Exercise Science
Health Administration and Management
Pharmaceutical Business

Medicine (Joint MD program)
Nursing
Occupational Therapy
Physician Assistant
Physical Therapy
Speech Language Pathology
Plus, we offer the following pre-professional programs:
Pre-medical
Pre-dental
Pre-optometry
Pre-veterinary
---
B.S. in Interprofessional Health Sciences
Seton Hall offers a Bachelor of Science in Interprofessional Health Sciences. The program has the following tracks:
Exercise Science
Health Administration and Management
Pharmaceutical Business
The Interprofessional Health Sciences program at Seton Hall offers you a flexible and interdisciplinary curriculum with a strong foundation in the sciences to help prepare you for a rewarding career in the healthcare field. You will also have the opportunity to engage in research, internships and other important hands-on learning experiences. By combining rigorous classroom instruction with a practical approach, you will gain a broad understanding of issues and topics challenging health care and learn the skills necessary to put your great mind to use helping others in healthcare settings. Students will learn in small classes with caring and highly regarded faculty. The majority of your course work will be taken on our South Orange campus, but some courses will be taken on our Interprofessional Health Sciences campus.
---
Health Professions
Seton Hall offers dynamic and highly rated programs in:
Athletic Training (3+2 years)
Occupational Therapy (3+3 years)
Physical Therapy (3+3 years)
Physician Assistant (3+3 years)
Speech-Language Pathology (4+2 years)
We're one of only a few schools in New Jersey to offer both the undergraduate and graduate portions of these degrees. And if you enter this joint degree program as a freshman, you are guaranteed a spot in the graduate portion of these programs, provided you have the appropriate grades and coursework. In fact, the majority of the spots in these programs at the graduate level are exclusively reserved for Seton Hall graduates.
Students in these programs pursue the undergraduate portion of their degree on the South Orange campus and then transition to the Interprofessional Health Sciences campus for the graduate portion. These students also have some of the highest exam pass rates possible ranging from 98-100 percent; they also have 100 percent job placement rates after graduation. Our Physician Assistant program is ranked in the top 25 in the country by U.S. News and World Report.
As part of your studies, you will also have the opportunity for exciting clinical placements and practical hands-on learning in our state-of-the-art labs. You'll find our students working for top healthcare employers like Memorial Sloan Kettering, Hospital for Special Surgery, Children's Specialized Hospital, Kessler Institute, the New England Patriots and the New York Mets.
Learn more about our Health Professions programs >>
---
Nursing
A powerhouse in nursing education, Seton Hall boasts a 100 percent job placement rate for our nursing graduates at leading hospitals. Seton Hall has the distinguished honor of being the oldest nursing program in the state of New Jersey and was recently ranked by U.S. News and World Report in the top 10 percent of nursing programs in the nation. As a result, our program is highly regarded and has many talented and well-established faculty and alumni who are active in the profession and make important contributors to nursing policy and research. Students will benefit from working closely with these faculty in small classes and intimate, hands-on learning settings inside and outside of the classroom.
We offer direct admission to the nursing program and the ability to immerse yourself in nursing courses early in your undergraduate career. You will have extensive clinical experiences through our affiliations with more than 250 leading hospitals and healthcare organizations. You will learn in a hands-on environment — not only through your multiple clinical placements but also in our state-of-the-art Patient Simulation Labs.
Seton Hall is also one of the few universities in the country to be an approved college of nursing for Army ROTC nursing candidates. Plus, through a unique relationship with hospitals in the Philippines, you'll have the opportunity to study abroad and understand health care beyond the U.S. — even providing clinical care to remote villages, living the Seton Hall mission of servant leadership.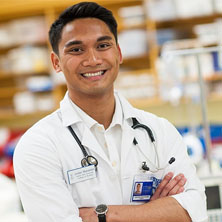 "Seton Hall immerses you in nursing courses starting your freshman year and gives you so many clinical opportunities at the best hospitals in the area. I was able to secure clinical rotations at Morristown Medical and St. Barnabas where I developed my critical thinking skills and worked closely with patients with respiratory distress and kidney failure. I even administered medication. The hands-on experience gave me an opportunity to use what I learned in class and apply it to a real-world setting."
Jordan Mabalatan
Catholic Studies and Nursing majors
Watch Jordan's' video >>
---
Joint Bachelor's/M.D. Program
The Joint Bachelor's/M.D. program provides a pathway for you to transition seamlessly from a bachelor's degree at Seton Hall to the M.D. program at the Hackensack Meridian Health School of Medicine (HMH SOM).
During your first four years, you can complete a bachelor's degree at Seton Hall in any subject of your choosing. Then, after a successful interview with HMH SOM (which is guaranteed for all Joint MD students who maintain required grades and coursework), you will transition to coursework at the School of Medicine in July. The SOM has designed an innovative curriculum which explores integrative health, continuity of care and social determinants of health. The curriculum may also allow you to begin residency after your third year. HMH is one of the most highly regarded and comprehensive healthcare networks in New Jersey, comprised of 16 hospitals, including three academic medical centers, two children's hospitals, nine community hospitals and two rehabilitation hospitals. Students enrolled at HMH SOM will also have the advantage of priority for matching during the residency process.
Seton Hall is the exclusive partner of the HMH SOM as we were integral in helping to launch the School of Medicine. As a result of our partnership, 25% of the seats in the SOM are reserved exclusively for qualified Seton Hall undergraduates, many of whom will come from the Joint MD program.
Admission to this program is competitive and requires that you take the SAT or ACT.
Learn more about our Joint Bachelor's/M.D. Program
---
Pre-Professional Programs
Students can also participate in our pre-med, pre-dental, pre-optometry or pre-veterinary programs. Typically, students in these programs major in biology or another science and are preparing for a graduate program in medicine, dentistry, optometry or veterinary. The program provides students with mentorship and advising from caring and dedicated faculty and staff. This includes workshops, opportunities for shadowing healthcare providers and engaging in research, study group, application and interview preparation, guest panels and a dedicated advisor to help you understand and navigate the process and requirements to meet your goal. As a result, our pre-med students have more than a 90 percent admit rate to medical schools. There are no specific admission requirements to be part of these pre-professional programs. Any student who is admitted to Seton Hall can benefit from these resources and advisement.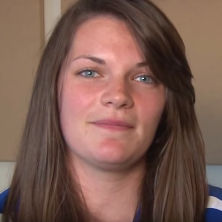 "I loved every minute of the Seton Hall program. I was in five different clinical settings, getting a first-hand look at the kind of career I wanted to pursue. I feel extremely confident in my abilities to help athletes achieve their very best."
Mercedes Cunningham
Social and Behavioral Sciences and Athletic Training majors
Watch Mercedes'' video >>
Admissions
Admission to Seton Hall is based on a holistic review of applications which includes a review of students' high school grades and curriculum, as well as extracurricular activities, recommendations and essays. All programs, except the Joint MD program, offer test-optional admission. Students are encouraged to submit their test scores if they feel these scores represent their abilities and strengthen their application. Students can apply using the Seton Hall application or using the Common Application.
Deadlines for early action are November 15 and December 15; regular admission deadlines are February 1 and March 1.
Research Advantage
Students in Seton Hall's healthcare programs will find that, unlike larger schools, they can start working side-by-side with faculty on cutting-edge, grant-funded research as early as freshman year. Students and faculty work on exciting research relating to cancer, diabetes, addiction, cell regulation, nutrition and much more. We also have research projects funded by the National Institutes of Health and the National Institute of Science, with students participating in competitive research internships and programs at Harvard, Columbia, NYU, Robert Wood Johnson and other prestigious research centers nationwide. Our students have also been engaged in exciting internships and hands-on learning opportunities at some of the top healthcare providers in the nation such as Kessler Institute, Memorial Sloan Kettering, Hospital for Special Surgery, NewYork Presbyterian and Children's Specialized Hospital.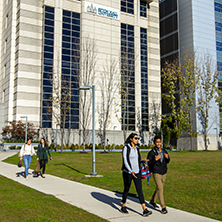 Interprofessional Health Sciences Campus
Seton Hall's Interprofessional Health Sciences Campus (IHS) is located in Clifton and Nutley, New Jersey, which is just 20 minutes from our main campus in South Orange. It is home to the Hackensack Meridian School of Medicine, as well as Seton Hall's Nursing and Health Professions programs. It provides a state-of-the-art facility that allows you to learn in a collaborative and interprofessional environment. Students in all programs work jointly on research and patient simulations, learning in an environment that will help foster a better dialogue and coordination for optimal patient care.