What Great Minds Can Do: Jordan Mabalatan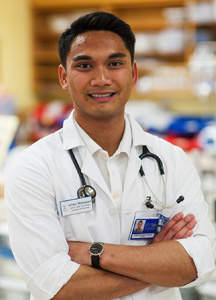 "Seton Hall's nursing program is unlike any other, taking learning from text book to real-world clinical experiences at some of the top hospitals in the area. As a result of my clinical rotation at Somerset Medical Center, I was awarded a very competitive clinical externship which provides me with a paid position now and a guaranteed job at the hospital when I graduate. I owe so much to the nursing program at Seton Hall because of its strong reputation, the caring and accomplished faculty, and most importantly the small classes and that much needed one-on-one attention that's often lost at larger universities."
With six clinical internships, and lots of hard work, nursing student Jordan Mabalatan started his nursing career well before he was set to graduate. He landed a competitive externship position at Somerset Medical Center which not only gave him a paid position and hands-on, real-world experience, but provided him with a guaranteed job offer upon graduation. "I love that Seton Hall immerses you in nursing courses starting your freshman year and gives you so many clinical opportunities at the best hospitals in the area."
As a nursing student, working in major hospitals was a big draw for Jordan. With help from his academic adviser, Jordan was able to secure clinical rotations at renowned medical centers like Morristown Medical and St. Barnabas. "I developed my critical thinking skills and worked closely with patients with respiratory distress and kidney failure. I even administered medication. The hands-on experience gave me an opportunity to use what I learned in class and apply it to a real-world setting."
From day one, Jordan said you are immersed in your nursing education. "Seton Hall's program absolutely prepares you for a rewarding career as a health care professional." And the keys to that preparation? For Jordan, it started with the faculty. "The professors at Seton Hall are great. They taught me how to holistically care for patients. Not only did they equip me with the tools to move into a clinical environment, they also gave me the one-on-one attention that is often lost a larger universities."
En route to his undergraduate diploma, Jordan's education was further enhanced by the University's Honors program. Jordon explained as an Honors student you are part of a community in which big ideas are cultivated. Add in leadership development and mentoring from the alumni network and the result is a unique experience at Seton Hall. "The Honors Program provided a global perspective that allowed me to work with people from different backgrounds. The courses I took in the Honors program made me a better nurse practitioner."
Jordan also tailored his college experience to reflect his extracurricular interests. He is a member of Alpha Phi Omega, a Seton Hall peer adviser, and D.O.V.E. team leader. All of these activities gave him invaluable experience with time management, working with groups, and mentoring. "This is what I was looking for: a school where I'd have multiple opportunities," said Jordan. "I'll always remember my experiences at Seton Hall."
Seton Hall Career Highlights
Six clinical internships; including St. Barnabas, Morristown, and Somerset Medical Centers
Clinical externship at Robert Wood Johnson University Hospital
Alpha Phi Omega fraternity member
University Honors Program
Seton Hall peer adviser
D.O.V.E. team leader