What Great Minds Can Do: Mercedes Cunningham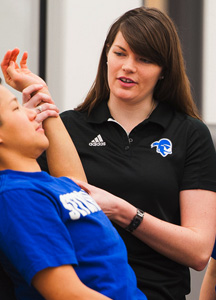 "I loved every minute of the Seton Hall program. I was in five different clinical settings, getting a first-hand look at the kind of career I wanted to pursue. I feel extremely confident in my abilities to help athletes achieve their very best."
A two-sport athlete in high school, Mercedes Cunningham used her positive energy to overcome an injury while playing volleyball, and eventually, study athletic training. "The treatment I received sparked my interest in athletic training and I realized I wanted to help others the way that athletic trainer helped me," Mercedes said. When it came time to choosing a college, Mercedes knew attending Seton Hall meant she was enrolling in one of the most respected athletic training programs in the country.
"I heard about the outstanding reputation of Seton Hall's athletic training program and I knew I wanted to go there." It turned out to be the perfect first step to her exciting career as an athletic trainer at Boston College.
Mercedes explained that Seton Hall's athletic training program is very well connected. "The professional opportunities for students are amazing. You can get your foot in the door and work with teams like the New York Giants and the Jets. Between the classes and the clinical experiences, I felt very well prepared."
The path to her success ran straight through Seton Hall, where Mercedes drew upon her five field experiences to impress her new employer. She is positive that her work with several Seton Hall sports teams as well as her clinical rotations at Atlantic Sports Health and Rutgers University were some of the biggest reasons she got the job. "I felt like I gained a real advantage by coming to Seton Hall and I am much more prepared than recent grads from other programs."
At Seton Hall, Mercedes knew she was gaining valuable real-world experience. What she didn't expect was that the University would provide her with leadership opportunities necessary to be successful. "Seton Hall has always been at the forefront of servant leadership. It's part of the student experience," Mercedes said. "I remember I had the chance to present my research on different types of leadership personalities at Seton Hall's Student Leadership Conference. The experience boosted my confidence and I applied what I learned to the athletic training room."
Mercedes' journey has taken many exciting turns and she is grateful for the support she received from everyone at the University. "Going to Seton Hall is what allowed me to go into big-time college sports. My professors were outstanding and they put in the extra time and effort to help me succeed. You really feel like you are part of a family at Seton Hall."
Seton Hall Career Highlights
Five clinical internships; including Atlantic Sports Health and Rutgers University
Recipient of the Nicholas DeProspo Award for Outstanding Service
New York City Marathon medical tent volunteer
Athletic Training Student Association president
National Society of Collegiate Scholars member
Seton Hall women's basketball manager
Relay for Life committee co-chair
Freshman Studies peer adviser
Seton Hall Leadership conference presenter