Seton Hall hosts NJ ACE Women's Network Spring Conference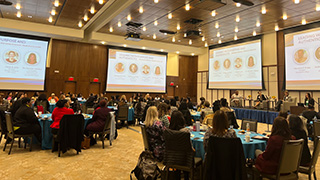 A photo of the ACE spring conference.
On Friday, March 24, Seton Hall hosted the NJ ACE Women's Network Spring Conference in Bethany Hall. More than 160 people attended the full-day, in-person conference focused on leadership. The NJ ACE Women's Network is a statewide organization committed to professional development and the success of women leaders in higher education through identification, development, encouragement, advancement, linkages, and support (IDEALS). Members represent a wide range of institutions, roles, academic disciplines, and administrative areas, including Presidents, Provosts, Vice Presidents, Deans, Directors, and administrators from institutions including but not limited to Seton Hall University, The College of New Jersey, Middlesex County College, Bloomfield College, Montclair State University, Brookdale Community College, Princeton University, Ramapo College of New Jersey, Essex County College, and Monmouth University.
The Spring 2023 "Conference Leading with Purpose and Authenticity" theme included "A Conversation Among Presidents," with Marcheta P. Evans, Ph.D. (Bloomfield College), Kathryn Foster, Ph.D. (The College of New Jersey), and Cindy Jebb, Ph.D. (Ramapo College). Evans, NJ ACE Women's Network Presidential Sponsor, moderated the enlightening, honest, and productive dialogue, which provided guidance and inspiration to support the audience's leadership journey. The Presidents shared the importance of building trusting relationships across campus and working collaboratively to develop the next generation of global leaders. They also communicated the value of mentorship and sponsorship and prioritized self-care and self-reflection.
Attendees could participate in professional headshots, build community, and develop networking skills. Table discussions included sharing examples of displaying one's authentic self within their team, developing self-awareness skills, and identifying barriers to achieving a purposeful and authentic leadership style.
Nicole Pulliam, Ph.D., Chair and Associate Professor; Director of the Social Justice Academy at Monmouth University, serves as the NJ ACE Co-Chair/Chair-Elect. Pulliam shared, "to lead with purpose and authenticity, we must become clear about WHO we want to serve, WHY we want to serve them, and HOW we bring all parts of ourselves into our leadership roles to impact change. This takes intentional self-reflection and development over time. Clarity and alignment are beautiful things."
The afternoon session included a Professional Branding Masterclass from leadership and talent development consultant, branding expert, and executive coach Michelle R. Callahan, Ph.D., CEO and Principal of 360° STRATEGIES. Callahan (Dr. Michelle) shared that "authenticity is the key to winning hearts and minds" and discussed how attendees could better understand their personal and professional brand to leverage their strengths, embrace their intersectionality, and build connections. Callahan also encouraged the group to ask for honest feedback from accountability partners.
Monica Burnette, Ph.D., Vice President of Student Services at Seton Hall and NJ ACE Treasurer, expressed, "to lead purposefully and authentically, we must have a clear framework for leading our organizations, teams, and ourselves. We can lead with intention, empathy, and compassion through vision and planning, listening and support, and optimism and positivity. The NJ ACE Women's Network Spring Conference provided members with clear guidance and inspirational motivation to continue to lead our institutions with purpose and authenticity."
NJ ACE-Women's Network sponsors several events throughout the year, including timely conferences, professional development events, and social gatherings. Programming is designed to provide and stimulate leadership among women in higher education. All are welcome to attend.
To learn more about the organization, check out the ACE-Women's Network – NJ website or LinkedIn.
Categories: Campus Life, Education