CAPS and NJ State Partnership to Provide Students Free Access to Tele-Mental Health
Wednesday, June 7th, 2023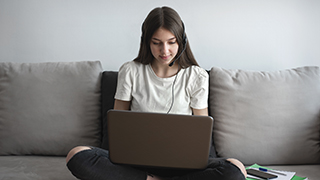 Counseling and Psychological Services (CAPS) at Seton Hall University is pleased to announce a new offering to currently enrolled students for mental health and wellness. As part of New Jersey's ongoing efforts to address the growing young adults mental health crisis, Governor Phil Murphy and Secretary of Higher Education (OSHE) Dr. Brian Bridges announced a partnership with Uwill – a mental health and wellness platform that will support students across 44 institutions of higher education throughout New Jersey.
Now available to all students at the South Orange, Interprofessional Health Services campus (Nutley) and the Law school (Newark) campuses, this first-in-the-nation partnership will provide 24/7 access to free virtual mental health services throughout the entire year for students enrolled at Seton Hall University.
"We are excited about the partnership with Uwill that will expand our ability to meet student demand and significantly reduce barriers to help-seeking that otherwise might prevent students from getting the support they need," said Dianne Aguero-Trotter, Director of Counseling and Psychological Services at Seton Hall University.
Uwill, the leading student mental health and wellness solution, offers students free and immediate access to teletherapy and wellness programming through its easy to use online platform. This new virtual offering complements CAPS's services, which include a wide range of therapeutic services designed to foster the psychological health and well-being of students to help them thrive, develop, and achieve academic and personal success.
By partnering directly with Uwill, New Jersey is the first state in the nation to offer comprehensive tele-mental health services to college students through a statewide approach that spans both public and private institutions of higher education.
"Supporting our students mental health and well-being is extremely important to all of us at Seton Hall," said Karen Von Norman, Associate Vice President & Dean of Students at Seton Hall University "By expanding our services through this partnership with Uwill we know that we will be able to assist even more students."
According to a press release from the Office of the NJ Governor, "a core focus of the partnership with Uwill is to provide students with access to a diverse network of licensed and qualified mental health providers trained in multicultural competency to ensure the needs of underrepresented students will be met." Having a broader network of diverse providers, across multiple states, can allow us to provide virtual mental health and wellness support equitably and with greater consistency.
Virtual mental health and wellness support will be available from Uwill's network of providers at no cost to current students. "Our mission is to expand mental health care so that every student has access to quality mental health support. We're committed to removing obstacles to therapy while also complementing existing campus offerings, so every student has the resources and support they need to thrive," said Michael London, Uwill Founder and CEO.
The services offered through this partnership are made possible by $10 million in American Rescue Plan funds that were allocated to OSHE in the State's Fiscal Year 2023 budget for tele-mental health supports. The funding complements the State's $16 million investment for institutions of higher education to develop community provider partnerships and build multicultural competency among faculty and staff through professional development opportunities.
Students can access Uwill by making an account with their SHU email and choosing a therapist based on their preferences including availability, issue, gender, language, ethnicity. Students can also choose a time that fits their schedule with day, night and weekend availability.
To learn more about CAPS's offerings to students, including individual and group therapy, assessments, crisis emergency services, educational workshops, self-help resources, consultations and referrals, visit their website, call (973) 761-9500 or drop by in-person and make an appointment. CAPS is located on the second Floor of Mooney Hall, Room 27. The office is open Monday - Friday, 8:45 a.m. - 4:45 p.m. In the event of a psychological emergency, call CAPS at (973) 761-9500 or the SHU Mental Health Crisis Hotline at 973-275-HELP (4357) to speak immediately with a professional mental health counselor.
Categories: Campus Life, Health and Medicine