Five Seton Hall Members Serve on the Board of ACE Women's Network – NJ
Friday, November 18, 2022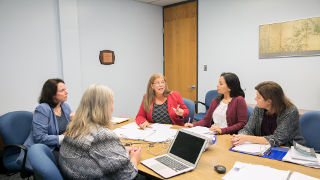 Seton Hall is committed to serving local communities, enhancing employee development programs, and establishing partnerships. ACE Women's Network – New Jersey is a statewide, non-profit organization dedicated to promoting and advancing women leaders' professional development in New Jersey colleges and universities.
The ACE Women's Network – New Jersey Board of Directors is comprised of dedicated and influential volunteers from colleges and universities across the state who, through various programs, seek to identify, develop, encourage, advance, link, and support (IDEALS) women in higher education. The Board represents a wide range of institutions, roles, academic disciplines, and administrative areas. Board members include Presidents, Provosts, Vice Presidents, Deans, Directors, and administrators from institutions including Seton Hall University, The College of New Jersey, Middlesex County College, Bloomfield College, Montclair State University, Brookdale Community College, Princeton University, Ramapo College of New Jersey, Essex County College, and Monmouth University.
This academic year, five Seton Hall members, predominantly from Student Services, were appointed to serve in various capacities on the Board of ACE Women's Network – New Jersey.
Monica Burnette, Ph.D., Vice President of Student Services, shared, "I'm thrilled to be a part of the ACE Women's Network – NJ. Having Seton Hall representation on the Board shows the University's commitment and dedication to the professional development and growth of employees in higher education. I am honored to work alongside my colleagues to mentor, develop, and support our leaders." Serving as the Board's Treasurer and Executive Committee member, Burnette is responsible for the organization's overall fiscal management plan, including long-term financial sustainability through coordinating operations of events and programs.
Nicole Battaglia, Ph.D., Director of the First-Generation Forward (Gen 1) Program, serves as the Chair of the Strategic Planning/Data Collection Committee for ACE Women's Network – NJ. Nicole earned her B.A. in Psychology and M.A.E. in College Student Personnel Administration from Seton Hall University. As a proud first-generation graduate, Nicole is dedicated to guiding fellow first-generation students throughout their collegiate journey and ensuring student success in higher education. Battaglia shared that "being part of this organization, which is dedicated to uplifting and empowering women in higher education, is a true honor" and is most excited about "working with an incredible group of talented women and ensuring we are reaching and supporting all women in higher education in NJ."
Akirah Fenimore, Associate Director of the Educational Opportunity Program (EOP), currently serves as the Membership Chair for ACE Women's Network – NJ. She "looks forward to welcoming new and returning members to our network and providing a space where women feel seen and heard." Fenimore discovered her purpose while serving as a Resident Assistant during her undergraduate experience at Rutgers University. She is a certified Rape Aggression Defense (RAD.) Instructor where she teaches women self-defense techniques. She is also a certified True Colors facilitator, where she works with students and teams to discover how they can use their true colors spectrum and dynamic keys to unlock their success. Fenimore joined the Board to "connect and collaborate with other women in the profession."
Nicole Giglia, Associate Dean of Students, currently serves as the Programming Committee Chair for ACE Women's Network – NJ. Giglia shared that events like the Women of Color Symposium on December 2 can "increase the representation of women leaders in our field [by building] strong relationships and networks of incredibly talented, supportive, and passionate colleagues." Giglia holds a M.A. in Teaching from Sacred Heart University, where she also earned a bachelor's degree in Media Studies. Currently, she is pursuing her Ph.D. in Higher Education Leadership, Management, & Policy at Seton Hall, where her research centers on the experiences of women college presidents in higher education. As Programming Chair, Giglia hopes to "revitalize the vibrant community of women higher education professionals in New Jersey, by [engaging in] great conversations and meaningful professional development." Planning is underway for an in-person Spring 2023 conference at Seton Hall.
Renee Ojo-Ohikuare, Ph.D., the Chair of the Nomination Committee at ACE Women's Network – NJ, is a Seton Hall alum, earning a Ph.D. in Higher Education Leadership, Management, and Policy in 2022. She currently serves as the Director of Enrollment Services at Essex County College. Ojo-Ohikuare's research focuses on the black female higher education administrative experience of microaggression and its impact on their work engagement. She was first introduced to the ACE Women's Network – NJ during a 2017 event, where she was "surrounded by women who aspired to serve in higher education leadership and were willing to share their journey and connections to help those who wanted to rise and develop professionally." She said the experience left her with "a more profound commitment to leadership and management in higher education as a woman of color."
ACE-Women's Network – NJ sponsors several events throughout the year, including timely conferences and professional development events and social gatherings. All are welcome to attend.
Community Members are welcome to sign up for the upcoming events.
To learn more about the organization, check out the ACE-Women's Network – NJ website or Facebook.
Categories: Alumni, Campus Life