Assistant Vice President and Dean invited to Keynote Rutgers Student-Athlete Graduation Celebration
Wednesday, May 17th, 2023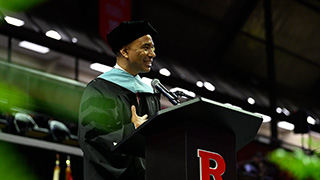 Vaughn Calhoun addressing the audience at the Rutgers Student-Athlete graduation.
On May 2, an air of excitement filled the Jersey Mike's Arena at Rutgers University in Piscataway, New Jersey, as Seton Hall's Assistant Vice President of Student Services and Dean of the Center for Academic Success, Vaughn Calhoun, Ed.D., took the stage as the keynote speaker for the Student-Athlete graduation celebration. As a Rutgers alumni and former student-athlete himself, Calhoun was uniquely positioned to address the graduating class, sharing his inspiring journey and challenging them to redefine themselves outside the realm of sports.
Having experienced the same transition from the structured world of intercollegiate athletics to the uncharted territory of post-graduation life, Calhoun empathized with the fear and uncertainty that often accompany this change. He urged the graduates to let go of any hesitations and harness the intangible qualities they had developed as student-athletes, empowering them to shape their future careers.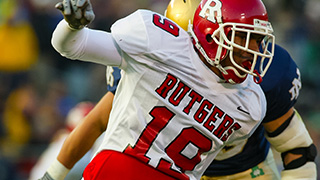 Calhoun during his time as a football player for Rutgers University.
Calhoun's personal journey as a student-athlete at Rutgers served as a testament to the profound impact of the university experience. He highlighted that this generation's hallmark would be marked by constant change and pivots and being a student-athlete had equipped them with the necessary qualities to thrive in this evolving world.
Moreover, Calhoun's message aligns seamlessly with Seton Hall University's Division of Student Services mission, which aims to cultivate a culture of success and excellence in the student experience. This mission is achieved by offering students opportunities to develop the essential skills needed to become responsible and compassionate global citizens who lead by serving others.
As Seton Hall's strategic plan nears completion, the university remains resolute in its commitment to Goal 3 of the University Strategic Plan, aptly named "Harvest our Treasures." This goal centers on providing all students with a premier, mission-centered engagement experience. To accomplish this, Seton Hall continues to focus on enhancing various aspects, including:
The University's "affordability agenda."
Quality and outcomes of learning
Expansion and diversification of experiential learning opportunities
Technological enhancements and facilities that advance learning
Support services and programming focused on the unique needs of all students
By emphasizing these areas, Seton Hall University continues to enhance the overall student experience, fostering a vibrant and inclusive learning community that prepares students for success beyond graduation.
Categories: Education