Sister Rose Thering Fund Welcomes Four New Board Members
Wednesday, May 10th, 2023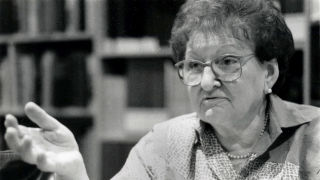 The Sister Rose Thering Fund for Education in Jewish-Christian Studies (SRTF) has welcomed four new members to its Board of Trustees: Roger B. Jacobs, Esq., Heather Mecka, Robin Sanders and Ruth Ross.
"We look forward to working with each trustee, who brings a renewed vitality to our mission and enhances the opportunity for our vision to become a reality," said Anthony Sciglitano, Ph.D., executive director of the SRTF and associate professor of religion.
Roger B. Jacobs, Esq., a recognized authority in labor and employment law, has authored several treatises in the field including The Employee Handbook Kit and Labor and Employment in New Jersey. Jacobs served as the Community Relations Committee chairman for the nonprofit, Greater MetroWest, during which he led community outreach and numerous trips to Israel. Reflecting on Sister Rose's legacy, Jacobs said, "I have always inspired by Sister's Rose dedication and strong belief system. Her indomitable spirit is a lifetime legacy to us all."
He is currently a member of the editorial boards of the Labor Law Journal, Alternatives by CPR, and the Employee Relations Law Journal, and serves as the vice chairman of the International Arbitration committee of the American Bar Association's International Law section.
Jacobs is an honors graduate of Cornell University. He earned his Juris Doctor from New York University, School of Law at which he received the Arthur T. Vanderbilt Medal. He also earned his LL.M. in Labor Law from NYU and was the Elias Lieberman Fellow in Labor Law. He has handled a wide range of disputes including contract interpretation, employee termination and discipline, classification, and overtime claims; restrictive covenants and non-compete provisions; securities including suitability, investment risk and churning; intellectual property, trade secrets, unfair competition; partnership dissolutions; claims of discrimination and wrongful termination.
Heather Mecka is a professional teacher with more than 25 years of experience in curriculum design and development, data analysis, and classroom management. She is currently an 8th grade teacher at Hackensack Middle School. A past recipient of a Sister Rose Thering Fund scholarship, Mecka continues to teach her 8th graders Holocaust studies, and mentors teachers who are new to this content. She also enables students in her English class to learn about the past, gain empathy and share out the messages and voices of those who were killed during the Holocaust.
Robin Sanders is an award-winning freelance photojournalist and editor, with more than 30 years of experience in video post-production, photojournalism and editing. He currently shoots, edits and performs File Transfer Protocol (FTP) entertainment news packages to Spectrum News NY1 for George Whipple's segments on New York movie premieres, Sundance, TriBeCa and New York Film Festivals as well as awards shows like Film Critics Circle, National Board of Review and Gotham Awards.
In addition to his camera work, Sanders shoots interviews and awards events. He earned his B.S. in TV-R Communications from Ithaca College.
Ruth Ross is an award-winning, retired English teacher with more than 40 years of experience, and a member of the National Education Association and the New Jersey Education Association. Some of Ross's awards include Teacher of the Year (Chatham High School 2005-2006) and Runner-up Teacher of the Year (sponsored by the New Jersey Council on the Humanities, 2004). She was also the recipient of a grant from the Chatham Education Foundation to teach a "Literature of Immigration" to students and received a scholarship to visit Holocaust sites in Europe, sponsored by the New Jersey Commission for Holocaust Education.
Ross is the author of the "Women Artists in the Ghettos and Camps" lesson plan found on the Women in the Holocaust website, sponsored by the New Jersey Council for the Humanities, and is also the owner and editor of the blog NJ Arts Maven, which features cultural events and drama reviews for productions in central and north New Jersey.
The Sister Rose Thering Fund was founded in 1993 to provide full tuition scholarships to teachers in the tri-state area who matriculate in Seton Hall's graduate program in Jewish-Christian Studies. It has awarded scholarship aid to more than 400 public, private and religious schoolteachers since that time, making it possible for more than hundreds of thousands of elementary, middle and high school students in New Jersey, New York and Pennsylvania to learn the lessons of how religious intolerance and bigotry can result in the human tragedy of the Holocaust and other genocides. The mission of the Fund is to advance Sister Rose Thering's legacy by fostering understanding and cooperation among Jews, Christians and people of other religious traditions through advocacy and education.
On Tuesday, May 30, the Sister Rose Thering Fund will host its annual Evening of Roses Gala, which honors Sister's Rose legacy and raises scholarship funding for teachers enrolled in the University's Jewish-Christian Studies certificate program.
This year, the gala will honor Rabbi Noam Marans, director of interreligious and intergroup Relations at the American Jewish Committee, and Monsignor Anthony Ziccardi, coordinator for undergraduate admissions and retention and assistant professor of biblical studies at Immaculate Conception Seminary School of Theology.
For more information about the Sister Rose Thering Fund,visit its website or contact the Fund directly at (973) 761-9006 or [email protected].
Categories: Faith and Service