Sister Rose Thering Fund for Education in Jewish-Christian Studies
About the Sister Rose Thering Fund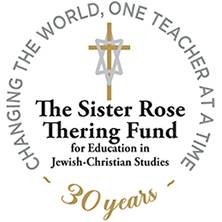 Fostering understanding through education and inter-religious cooperation since 1993, the Sister Rose Thering Fund began as a supporting wing of the Department of Religion at Seton Hall University.
Our mission is to advance Sister Rose's legacy by fostering understanding and cooperation among Jews, Christians and people of other religious traditions through advocacy and education. Sister Rose Thering served as administrator, recruiting educators and raising funds to defray tuition costs, until her retirement in 2005.
---
Academic Programs and Activities
The Sister Rose Thering Fund supports students studying in the graduate program of Jewish-Christian Studies in the Department of Religion in the College of Arts and Sciences, which offers a comprehensive curriculum leading to the Master of Arts (M.A.) in Jewish-Christian Studies, as well as a Certificate in Jewish-Christian Studies.
The SRTF Board consists of persons of diverse backgrounds dedicated to support Jewish-Christian Studies as an effective means to allay prejudice through inclusive education.
The Interreligious Virtual Media Library (VML) for Jewish-Christian Studies is an interactive archive for materials relating to Jewish-Christian Studies at Seton Hall University. The VML contains links to archival materials on Monsignor John Oesterreicher, Sister Rose Thering, video clips, lesson plans, time lines, and upcoming events of interest to people engaged in Jewish-Christian studies.
The Sister Rose Thering Fund provides tuition assistance funds for educators. Assistance is available for both Master's Degree Program and for non-matriculation graduate status.