The Petersheim Academic Exposition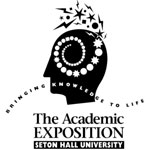 About the Petersheim Exposition
Now in its 27th year, the 2023 Petersheim Academic Exposition "Share, Honor, Unite" took place on Monday, April 24 – Friday, April 28, 2023.
This annual celebration of scholastic accomplishments involves the entire Seton Hall University community including undergraduate and graduate students, faculty, administrators, and staff from among the various disciplines.
Throughout the week, students in coordination with faculty sponsors, and faculty presented their work in research symposia, poster sessions, presentations, panel discussions, theatrical performances, art exhibits, debates, concerts and more. View the 2023 schedule of events and selection of recordings »
The Opening Reception of the 2023 Exposition was held from 12 - 2 p.m. on Monday, April 24, 2023 in Bethany Hall with Carl W. Lejuez, Provost of Stony Brook University, as the keynote speaker.
The Closing Ceremony of Celebration was held from 3:30 - 5 p.m. on Friday, April 28, 2023, in the McNulty Hall Amphitheater with Monica Burnette, Ph.D., Vice President of Student Services, as the keynote speaker.
Resources for Presenters
Poster Presentations
A well-prepared poster is visually pleasing and stimulates question and answers, as well as an exchange of ideas, between the viewer and poster presenter. Not everyone who stops by your poster will want to chat, so posters should be self-explanatory. Learn more »
Oral Presentations
For an oral presentation you will be required to present an oral overview of your work to a small audience. Oral presentations are usually 10-15 minutes, the last 3 -5 minutes may be reserved for questions from the audience. Learn more »