University Libraries Awarded National Grant to Preserve Artifacts from Five Pathbreaking New Jersey Politicians
Wednesday, July 21st, 2021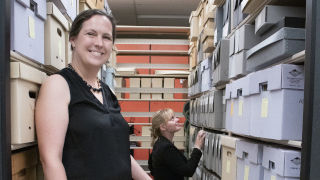 Technical Services Archivist Sheridan Sayles and Assistant Dean Sarah Ponichtera in the Vault where the archival collections will be stored for future generations. With proper storage techniques, these collections will fit into half of the space they currently occupy.
The Archives & Special Collections Center of the University Libraries has been awarded a grant from the National Historical Publications and Records Commission, a branch of the National Archives, to support the collections from five pathbreaking New Jersey politicians.
The politicians include:
Arthur A. Quinn (1856-1957), state legislator and labor leader
Bernard Michael Shanley (1903-1992), White House staff member during the Eisenhower Administration
Richard Joseph Hughes (1909-1992), New Jersey's first Catholic governor (1962-1970)
Brendan Byrne (1924-2018), governor of New Jersey from 1974 to 1982
Donald Payne (1934-2012), first African American member of the U.S. House of Representatives from New Jersey (1989-2012)
Scholars will have access to documents and objects from the office, diaries, personal reflections and photos of these five NJ leaders. Older materials dating back to the early and mid-twentieth century even include texts transcribed through dictaphone recordings.
In addition to fostering greater accessibility to the collections, the grant will allow archivists to add context surrounding leaders that influenced hot-button issues like labor advocacy and civil rights. University students and researchers will likewise be offered behind-the-scenes insight into each politician's official career including research files created by legislative aides and pertinent materials related to various Presidential administrations such as that of Herbert Hoover, Franklin D. Roosevelt, Dwight D. Eisenhower, Richard Nixon and Barack Obama.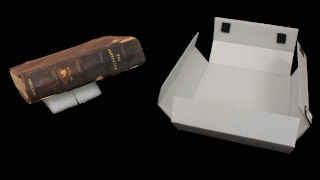 Technical Services Archivist Sheridan Sayles constructed a custom box for this volume which compiles Carpenter's Union publications featuring poetry, prose, and historical data, specially printed for Arthur Quinn. Quinn papers, MSS 132
"This project will not only preserve Seton Hall's most important political collections but also transform our space, preparing us to accept new collections documenting the history unfolding in our time," said Sarah Ponichtera, assistant dean for Special Collections and the Gallery.
Founded in 1976, the Archives holds three principal sets of source materials: University documents, manuscript collections, and the archival records for the Archdiocese of Newark. The Center seeks to find a balance between access to the public and preservation for future generations.
In support of that mission, the Seton Hall team of archivists has modernized the ways they maintain these collections. In the past decade, the Center has been transitioning more photos to mylar sleeves, which use a sturdier polyester base, and updating the climate-controlled systems in the vault.
"Storing photographs in mylar sleeves allows us to protect these important images while ensuring they are visible to users," said Sheridan Sayles, technical services archivist. "Also, since we will have the resources to better describe these materials, we can give them more meaning to researchers."
These innovations help protect the original details of artifacts while reducing the storage footprint and consolidating space for new materials.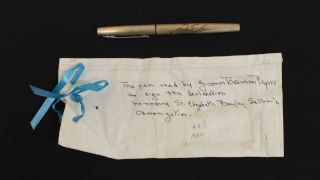 This was the pen that Governor Brendan Byrne used to sign the declaration honoring the canonization of St. Elizabeth Ann Seton. MSS 7, Accession no. 2021.05.0001.A
Additionally, the Library has been strategically digitizing more primary sources for wider accessibility among the research community. In 2018, Seton Hall restored and digitized an illuminated 17th century Qur'an and made the pages available to scholars across the globe.
"Things not online can essentially become invisible," said Ponichtera. "So, we want to find ways to add more materials to the conversation."
The Center also encourages members of the community (students, faculty and administrators, retired or active) to donate materials telling the stories of Seton Hall to the archives. Students can donate records of student organizations, faculty can donate research materials and manuscripts and administrators can donate working files including planning documents and meeting minutes. Electronic records including emails and social media posts are welcome as are paper records.
To inquire about possible items to submit to Archives and Special Collections, please contact [email protected].
Categories: Arts and Culture, Education, Research