The 2023 Student Servant Leader Award Recipients
Tuesday, April 18th, 2023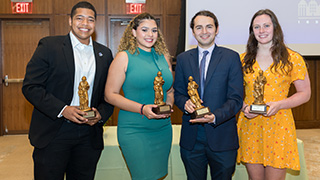 This year's recipients of the Nineteenth Annual Student Servant Leader Award.
On behalf of the 2023 Servant Leader Awards Committee, we are honored to announce the Nineteenth annual Student Servant Leader Awards recipients.
For the past 19 years, the Student Servant Leader Awards have striven to seek out and honor students whose dedication to service both on and off campus can serve as an example to their peers and all of us at Seton Hall. Over the years, these awards have shone a light on students who sought to serve others not for recognition but because of their innate call to end social injustice in all walks of life.
We are proud to announce four recipients for this year's awards:
Michael Antzoulis
Lari Hernandez-Perez
Josephine McCartney
Jason Santos
Each recipient's contributions to acts of love and service are unique and widespread within the Seton Hall community and beyond.
Michael Antzoulis is a final year candidate at the Seton Hall Law school. Michael has shown true humility in the exemplary levels of service in which he continues to participate in. Despite the complexity of immigration law, in the U.S., Michael has consistently contributed countless volunteer hours at the immigration clinic, making sure that his asylum and deportation receive justice. Michael hopes to continue using his abilities to solve complex and real-world problems for long periods of time while also setting an example to inspire his colleagues in his community.
Lari Hernandez-Perez is a graduating senior majoring in biology. Lari has been involved with the Division of Volunteer Efforts (DOVE) since her first days at Seton Hall. As a first-generation college student, Lari has set a pace of service to neighbor unlike many of her peers; within the span of her years at Seton Hall, she has given herself to a wealth of community service programs. She has performed outreach to the Pierre Toussaint Food Pantry, Interfaith Food Pantry of the Oranges, Achieve Tutoring, Homework Help, Teen X Change, & Saint John's Soup Kitchen. She has also led groups on immersion weekends at the St. Francis Inn in Philadelphia and El Salvador. Lari has shown exemplary leadership to her fellow volunteers through tireless service which she carried out with love, compassion, and undeniable joy.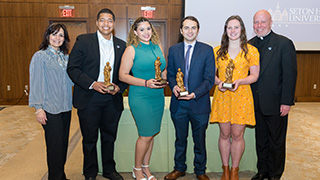 Recipients with Fr Colin Kay & Provost Katia Passerini, Ph.D.
Josephine McCartney is a junior majoring in biochemistry and a Seton Hall athlete on the swimming team. She balances her time competing in the sport she loves, while also passionately contributing her time to teaching English as a second language to members of Our Lady of the Valley Parish and the Don Bosco Youth Center. This experience has largely shaped her philosophy that servant leadership is a process of continuous learning for all involved. Josie hopes to continue positively impacting the lives of the members of Our Lady of the Valley Parish with her gift of teaching and anticipates continuing a career path where she will not only help people heal physically but spiritually too.
Jason Santos is a junior majoring in mathematical finance & econometrics. His service-above-self mindset empowered him to lead different groups of people. As part of the Buccino Leadership Institute, Jason was fortunate to lead a team of interdisciplinary students to achieve a goal he pitched as a sophomore. The idea was to establish a public closet of professional attire available to students at Seton Hall University to tackle the economic barrier that access to formal clothing may pose. Housed in Seton Hall's Career Center, Pirate's Closet has served innumerable students to date. Jason believes that Pirate's Closet creates an environment where every student regardless of background has access to proper formal attire to enhance their professional image and gain a competitive edge in the job market.
On April 3rd, the Division of Volunteer Efforts held a ceremony in celebration of this year's recipients. Family and friends were able to join from far and near to celebrate with our recipients. Katia Passerini, Ph.D., the University's Provost and Executive Vice President, also shared some inspirational words on the role of servant leadership. She asserted that a servant leader is someone who puts the needs of others first while embodying Christ on earth, which our four recipients exemplify for us.
Seton Hall University wishes to congratulate the recipients of the Nineteenth Annual Student Servant Leader Award. Thank you for your constant efforts towards the betterment of our communities and all of humanity. Your hard work and service towards the transcendence of humanity will never go unnoticed!
Categories: Campus Life, Faith and Service