Two Students Complete Internship at the Superior Court of New Jersey
Thursday, August 30th, 2018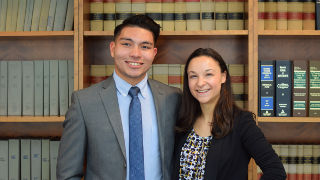 From left: Interns Joseph Murante and Emily Silkowski
Joseph Murante, a junior in the Stillman School of Business, and Emily Silkowski, a senior in the School of Diplomacy and International Relations, have wrapped up a three-month long internship as judicial interns for the Superior Court of New Jersey in Sussex County.
Murante and Silkowski discovered and applied to the internship via Seton Hall's career site "Navigator." After their applications were accepted, Murante and Silkowski were asked to participate in a first-round interview with the two law clerks whom they would be reporting to: Sophia Mossberg and Katherine Vernon. They were then asked back for a final interview with Judge William J. McGovern III, whose chambers they would be working in. The students were notified in early May that they were selected for the intern positions.
Silkowski is a double major in diplomacy and modern languages. After spending her Fall 2017 semester abroad in France, Silkowski sought to intern within the legal world to confirm her dreams of becoming a lawyer. Outside of her academic pursuits, Silkowski serves as a resident assistant and has a passion for theater. While balancing her internship, a part-time job, and studying for the LSAT over the summer, Silkowski still managed to find time to play several roles in a local production of Legally Blonde.
"I am incredibly thankful to have been chosen as a judicial intern this summer for Judge McGovern. While observing courtroom proceedings, I learned valuable life lessons regarding the choices we make in life and the importance of the legal field in a healthy society," said Silkowski. "This internship reaffirmed my decision to go to law school after graduation and gave me the reassurance that I am on the right path to be successful."
Murante is a double major in finance and economics. Determined to get legal experience before attending law school, Murante was grateful to be selected to work for a criminal court judge. For the duration of the summer, the Stillman student traveled back and forth between Newton and South Orange, handling workloads for both his internship with the Superior Court and his job with the Public Relations and Marketing Department at the University. Aside from work, Murante dedicates much of his time to the Seton Hall Mock Trial Team and studying for the LSAT.
"Interning for the court was a fulfilling experience," said Murante. "The work Judge McGovern and his law clerks handle daily is significant and impacts everyone within the state. I am honored to have served as part of the court; this experience will assuredly help me in my pursuit of becoming a lawyer."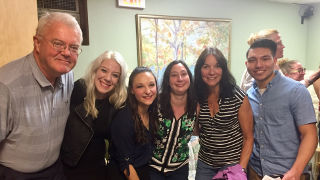 From left: Judge McGovern, Sophia Mossberg, Emily Silkowski, Katherine Vernon, Linda Boniface and Joseph Murante attending the Legally Blonde production.
Starting their work in May, Murante and Silkowski hit the ground running. Reporting directly to the two law clerks, they were primarily responsible for consolidating defendants' presentencing reports and other relevant case files into one concise document for Judge McGovern. After becoming more familiar with processes and courtroom procedures, the two interns took on more responsibility. Guided by the law clerks, the two students were taught about the aggravating and mitigating factors for the purposes of sentencing and subsequently expected to apply the factors to their assigned cases.
Additional responsibilities for Silkowski and Murante included summarizing arguments written by prosecutors and defense attorneys. The two students performed legal research on the case law imbedded in the writings and analyzed the reasoning – useful knowledge for law school and the legal profession. In their free time, both interns would observe the courtroom proceedings frequently consisting of motions, competency hearings and sentencings.
Seton Hall offers an array of resources to students interested in law school. Professor Robert Pallitto, chair of the Department of Political Science and Public Affairs, serves as the pre-law advisor to undergraduate students. Pallitto offers his expertise to students concerning LSAT preparation, law school applications and questions as they relate to the legal profession.
The University's Career Center offers several opportunities for pre-law students including an introduction to legal careers event, the annual "Law School Confidential" event and internships at various law firms.
Additionally, the Seton Hall Mock Trial Team allows students to take on the roles of attorneys and witnesses by competing in moot court proceedings against teams throughout the nation. Each option provides students with preparation for a strong application to law school and a future in the legal profession.