Student Retention Rate Hits Six-Year High
Friday, September 15th, 2023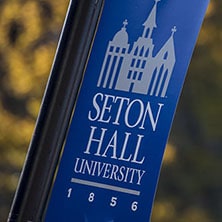 The number of freshmen who returned to Seton Hall to continue their studies (known formally as the retention rate) has hit a six-year high of 85.2 percent as of September 13. The number exceeds the national average by nearly 12 percent and the state average by even more.
According to the National Student Clearinghouse Research Center, which calculates retention rates for colleges and universities each year, the national average retention rate for full-time college students last year was 73.4 percent; in New Jersey, that number was 73.1 percent.
"This is a remarkable achievement," said Monica Burnette, Ph.D., Vice President of Student Services. "This number is borne of our unwavering commitment to our students and their steadfast commitment to joining the legacy of success at Seton Hall. This is a testament to our world-class faculty, our student-focused curriculum and the individual care we provide to each and every student that calls Seton Hall home."
This latest high for Seton Hall marks the fourth time it has exceeded 85 percent in the last decade. The average retention rate over that timeframe is 84.1 percent. These achievements are particularly impressive in light of enrollment trends. In that same decade, enrollment at Seton Hall rose 19 percent while enrollment nationally declined by more than 15 percent.
"As befits a major university which presents its students with unique opportunities, a world-class faculty and a stellar employment rate, Seton Hall has attracted more students and has retained more," said Seton Hall University Senior Vice President for Enrollment Management Alyssa McCloud. "Our class sizes are small, and we nurture our students and prepare them to take their place among the world's great servant leaders. Simply put: They enroll, they return, and they flourish."
Seton Hall's employment rate for 2022 is 98.5 percent and its graduate school acceptance rate was 98 percent.
A recent independent study from Georgetown University's University Center on Education and the Workforce ranked 1700 public and private colleges and universities in the United States (that primarily confer bachelor's degrees) for return on investment throughout a graduate's workforce career.
The Georgetown research found that Seton Hall alumni can expect to reap an additional $1.4 million in earnings during their career by virtue of their degree, which placed the University at 175 among the 1700 schools – the Top 10 percent nationally.
Last year, Seton Hall awarded a record-breaking $158 million in scholarships for Fiscal 2023. This year, the University awarded more than $169 million in scholarships to students. A staggering 98 percent of its student body benefits from some form of financial aid, with 97 percent receiving scholarships or grants.
Categories: Campus Life