SHU Humanities Announce Fall 2022 Colloquium
Thursday, September 1st, 2022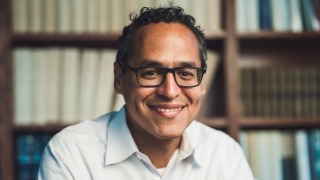 Roosevelt Montás, Ph.D., Columbia University
The Humanities Colloquium with Prof. Roosevelt Montás, Ph.D. will be held in the Walsh Library, Beck Rooms on Thursday, September 15, at 4:00 pm.
Members of the Seton Hall community are invited to join their colleagues for some fellowship and refreshments at the inaugural Humanities Colloquium to begin the new academic year. The invited speaker is Prof. Roosevelt Montás Ph.D., former director of Columbia University's Center for the Core Curriculum (2008-2018). Prof. Montás will offer a reflection on the important value of the humanities today based on his recent book, Rescuing Socrates: How the Great Books Changed My Life and Why They Matter for a New Generation. Rescuing Socrates details the experiences of Montás as a student and teacher, telling the story of how the Great Books transformed his life and why they have the power to speak to people of all backgrounds. Roosevelt speaks widely on the history, place and future of liberal education.
Prof. Montás is Senior Lecturer in American Studies and English at Columbia University. In 2000, he received the Presidential Award for Outstanding Teaching by a Graduate Student and in 2008, he received the Dominican Republic's National Youth Prize. He regularly teaches moral and political philosophy in the Columbia Core Curriculum as well as seminars in American Studies. He is also director of the Center for American Studies' Freedom and Citizenship Program, which brings low-income high school students to the Columbia campus to study political theory and then helps them prepare successful applications to college.
The Colloquium is sponsored by the Center for Faculty Development and the Center for Catholic Studies with the Office of the Provost, the Dean of Arts and Sciences, and the departments of English, CORE, Philosophy, Religious Studies, History, Theology and the Department of Languages, Literatures and Cultures, and the Program of Catholic Studies.
This event is open to all Seton Hall faculty, staff, and administrators. To register, please visit the link here.
Categories: Arts and Culture