Seton Hall Represented at Equal Justice Initiative Workshop
Thursday, December 15th, 2022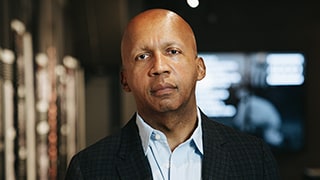 Recognizing the strength of Seton Hall University's commitment to diversity, equity and inclusion, Bryan Stevenson, American attorney, social justice activist, founder and executive director of the Equal Justice Initiative, and author of Just Mercy, invited representatives of the University to participate in an Educational Leaders Workshop. In his personal invitation, Stevenson wrote: "We extend this invitation to you in part to express our gratitude for the incredible work you do for students but also to encourage our collective engagement in overcoming the racial inequalities in education that prevent this democracy from fulfilling its promise of justice and opportunity." On November 17 and 18, two Seton Hall representatives joined a gathering of educational leaders at the Equal Justice Initiative in Montgomery, Alabama. The Education Convening included a tour and study of the Legacy Museum: From Enslavement to Mass Incarceration and the National Memorial for Peace and Justice, followed by participation in facilitated programming about teaching the history of racial injustice in America.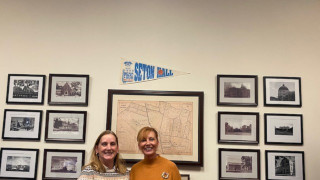 Representing the Office of the Provost in Montgomery was Professor Amy Newcombe, Assistant Provost for Faculty Affairs and Ms. Bernadette McVey, Director of Academic Events, Initiatives and Planning. On November 17, participants were invited to browse the Legacy Museum: From Enslavement to Mass Incarceration and the National Memorial for Peace and Justice. The Legacy Museum immerses visitors in an educational experience designed to help everyone understand the legacy of slavery and its connection to racial inequality and mass incarceration in America. The Museum is a companion space to the National Memorial for Peace and Justice, which is the nation's first comprehensive memorial dedicated to thousands of victims of racial terror lynchings.
The National Memorial for Peace and Justice is normally open during daylight hours, but for this special event, they remained opened until 8 p.m. that evening, which provided a unique, impactful experience, with only a finger light to guide one's experience of the monument.

On November 18, Bryan Stevenson led a day of intentional and impactful programming. Also speaking that day were Bryan's brother and theologian Dr. Howard Stevenson, a professor of Africana Studies at the University of Pennsylvania, and Anthony Ray Hinton, a wrongly convicted man, who spent 30 years on death row for a crime he did not commit. Anthony Ray Hinton spoke movingly about a book club he founded among those waiting on death row, "The men on death row had been told the world would be better without them. I tried to say that this may not be where we want to be, but let's do what we can for one another."

About 170 participants attended, sitting in circles facilitated by employees of the Equal Justice Initiative. Bernadette McVey noted on her experience, "The impact of walking into the Legacy Museum for the first time will stay with me for a long time as will the reverence I felt walking, in the dark, at the National Memorial for Peace and Justice, which is the first memorial dedicated to the legacy of enslaved Black people who were terrorized by lynching even well into the 20th century. I learned so much in these two short days."

In November 2020, as part of the University's strategic plan to build a culture of "One Seton Hall," the SHU Reads! Selection Committee called upon community members to nominate the first-year text. The nominated texts were mindful of the Catholic values and mission, thought-provoking, accessible, and relevant to current events and societal themes. Just Mercy was chosen out of more than 50 nominations from faculty, administrators, staff, undergraduate and graduate students. To support this initiative the University purchased over 2,000 copies of Just Mercy that were distributed to incoming students and faculty members.

Just Mercy is a memoir documenting Stevenson's experiences representing marginalized Americans who have been unfairly treated by the criminal justice system. The book has been recognized with several awards, including the Carnegie Medal for Excellence in Nonfiction, NAACP Image Award for Nonfiction, Books for a Better Life, An American Library Association Notable Book, and finalist for the Los Angeles Times Book Prize and Kirkus Reviews Prize. The University repeated its SHU Reads! selection of Just Mercy for the current academic year.

On November 7, 2021, Seton Hall University bestowed an honorary degree on Bryan Stevenson for his lifelong commitment to legal representation for death row inmates and other extraordinary achievements as a widely acclaimed public interest lawyer and great advocate for justice.
Categories: Arts and Culture, Law