Seton Hall Hosts Inaugural Humanities Colloquium
Thursday, September 22nd, 2022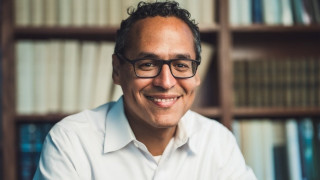 One of the beautiful aspects of a university is the way in which the community learns. While there are varying opinions on the best approach to higher education, it is hard to argue the fact that each institution of higher learning is comprised of a community of individuals dedicated to the quest for learning. In a liberal education, this quest is constituted in part by human interaction and relationships, wherein individuals learn and grow together despite their disciplinary differences. The mission of Seton Hall and its core curriculum is very much rooted in this diverse and collaborative environment. As an essential complement to professional training, Seton Hall students are offered the shared experience of studying the liberal arts through courses in the Core and the humanities. Such a liberal education provides a foundation of no less essential "skills," such a love of learning, intellectual rigor, moral reflection, and civic responsibility, that transcend any one area of study.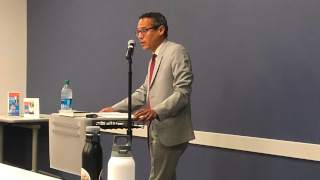 Over 50 members of the Seton Hall community gathered for the inaugural humanities colloquium
Paramount to such an environment, according to Prof. Roosevelt Montás, Ph.D. of Columbia University, is a liberal education. Montás highlighted this in his comments at the inaugural Seton Hall University Humanities Colloquium on September 15th . The event was standing room only as over 50 members of the Seton Hall community gathered to hear Montás share his transformative encounter with the Great Books as a student and then a faculty member as well as his assessment of the positive impact an interdisciplinary core curriculum can have on a university community. Among his various insights, Montás notes that the liberal arts invite us to an encounter with what is foreign to us and resists successfully our attempts at facile assimilation. And that, in becoming our neighbors in conversation, those same texts can become occasions for self-transcendence: challenging our assumptions, and by turns coaxing and provoking us into greater moral and intellectual depth.
This was something of a repeat performance, for Montás, who came to Seton Hall in the early 2000s to assist in the development of our core curriculum. During his remarks last Thursday, he expressed his delight in how the University core accomplishes interdisciplinarity through dialogue and reading of common texts. He explained that the fruit of such a "rare achievement" yet one of "great importance to this institution" is the fostering of a community that knows how to "think together." By thinking together individuals from all backgrounds and various disciplines engage life's biggest questions.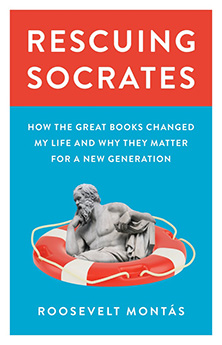 In Montas' remarks, much like his recent book Rescuing Socrates, a defense of the liberal arts quickly leads to a defense of the art of teaching. Learning to ask not only how to make a living, but also what living is for, is a transition fostered by dedicated and skilled teachers. Montás highlighted the importance of faculty as the lifeblood of any successful liberal education. True dialogue, and not simply a lecture, is a "highly skilled form of pedagogy" that forms the "intellectual and social glue" of a university, according to Montás.
Montas illustrated these points and others with vignettes from his personal life, particularly his struggles as young immigrant from the Dominican Republic who discovered the Great Books first by picking up a copy of Plato's dialogues from his neighbor's garbage can and then through a community of fellow students, whom he credits as the catalyst for his successes in life.
Prof. Roosevelt Montás is the author of Rescuing Socrates: How the Great Books Changed my Life and Why They Matter for a New Generation. Montás is a Senior Lecturer in the Discipline of English and Comparative Literature at Columbia University, where he served as the director of their Center for the Core Curriculum and the Center for American Studies Freedom and Citizenship Program.
This event was sponsored by the Center for Faculty Development and the Center for Catholic Studies with the Office of the Provost, Dean of Arts and Sciences, and the departments of English, the CORE, Philosophy, History, Religious Studies, Immaculate Conception Seminary School of Theology, Program of Catholic Studies, and Language Literature and Culture.
Categories: Education